Top 5 Online Time Clock for Medical Office Options (Comparison Post)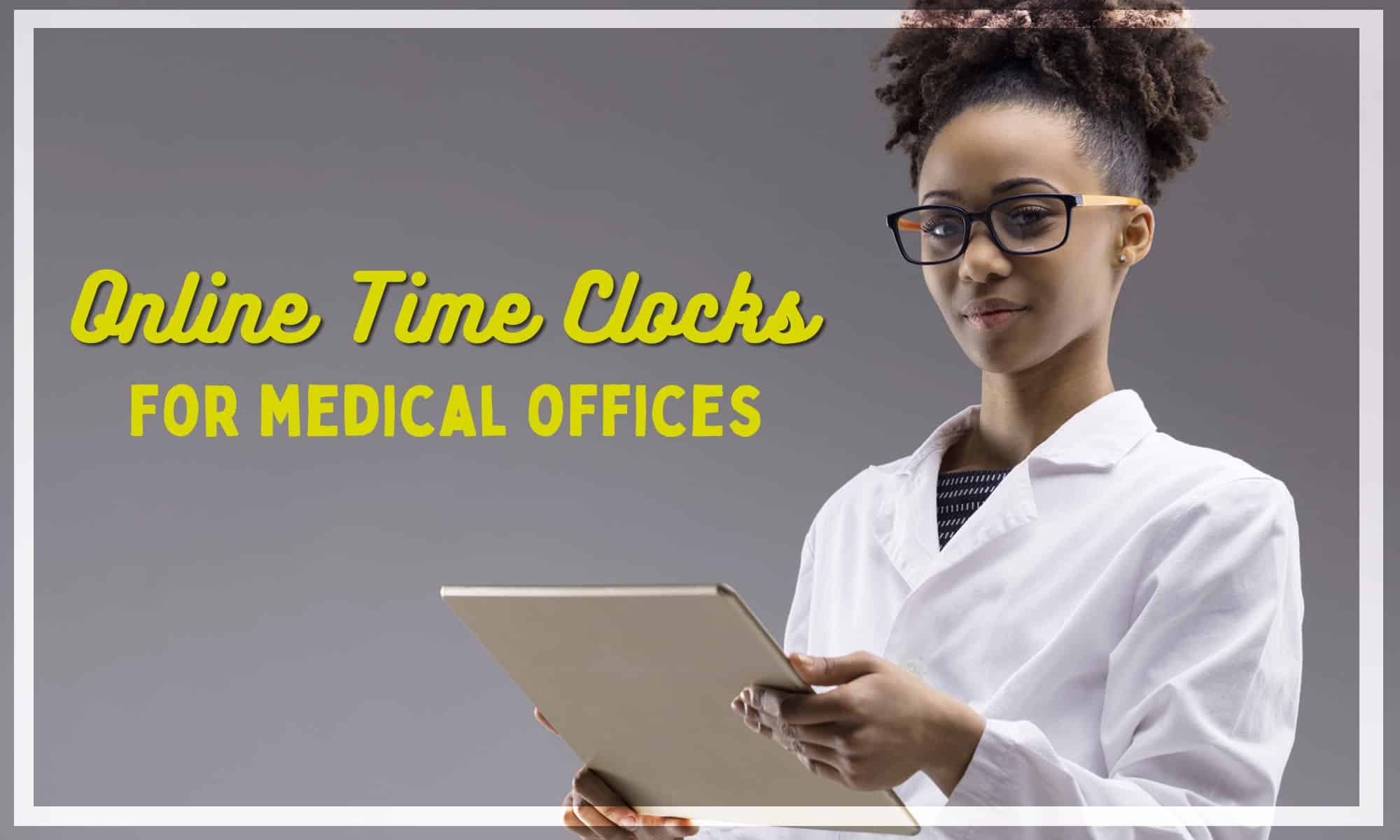 Timeliness and organization are more critical in the healthcare field than many other industries, and for good reason. There's a specific need to be accurate and effective when it comes to dealing with patients, and bleeds over into how medical offices operate in all aspects. From managing timesheets to transferring data over to payroll, data needs to be as airtight as possible, because every hour spent dealing with a discrepancy or wasted on a manual process can result in worse care for your patients.
Hence why more and more medical offices are turning to digital attendance software. Beyond helping get control over employee time & attendance data, many of them provide scheduling features that make it easier to manage employee hours for office staff, nurses, and CNAs.
The only potential downside here is if you pick an inadequate time tracking software – one that's insecure when it comes to data protection, ineffective when it comes to transferring data for payroll systems, or unintuitive when it comes to accessing features or records.
Today we're going to outline our top 5 picks of online time clocks for medical offices, based on three core attributes:
Employee Accountability. How much control does it give private business owners over their team members? How much control can your office workers exert on their own? We're looking for features that encourage employees to manage their time on the clock, but also grant transparency so they can see their own hours worked, payroll banked, or jobs completed – and maybe even include a few self-service options to boot.
Design Simplicity. The last thing we want nurses to be dealing with is trying to figure out how to clock in or log their work in between running around the offices and attending to incoming patients. In our opinion, design simplicity is mandatory for any attendance tracking system designed for the medical field – as well as cross-device functionalities (Desktops, iOS, Android, Tablet, etc.)
Payroll Streamlining. Lastly, a medical employee time clock system must be able to transfer accurate payroll data over to payroll processing systems easily. Without this feature, processing payroll takes too much time and effort on a regular basis.
Now let's dive into our list and see what some of the best choices are.
Online Time Clocks for Medical Offices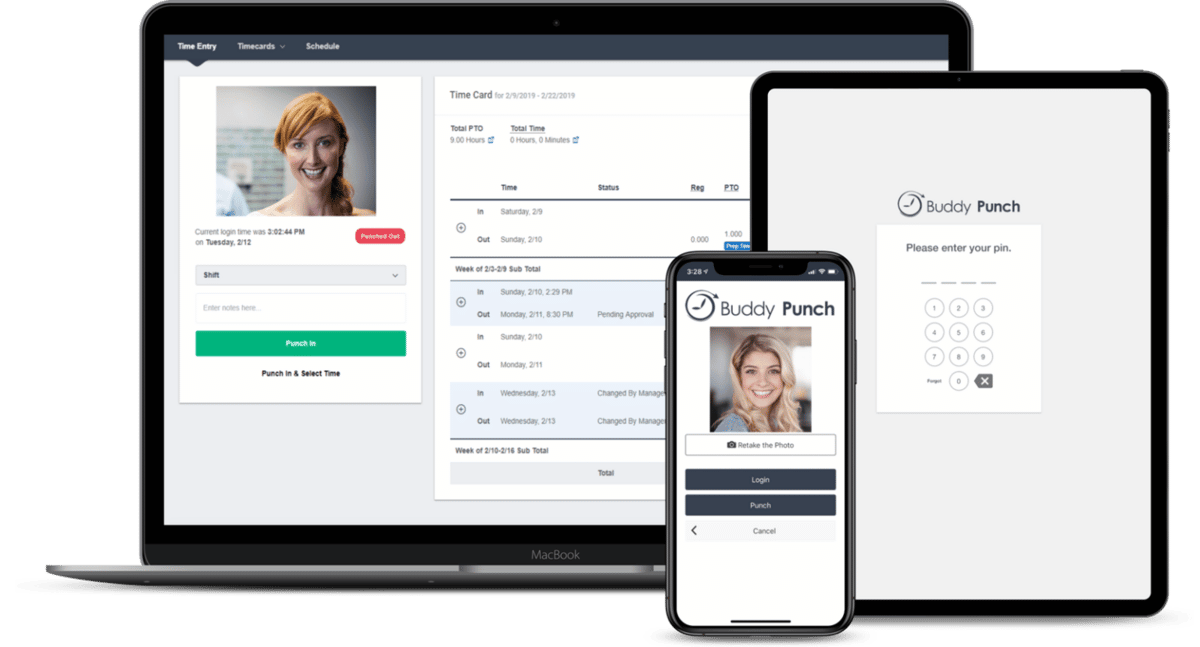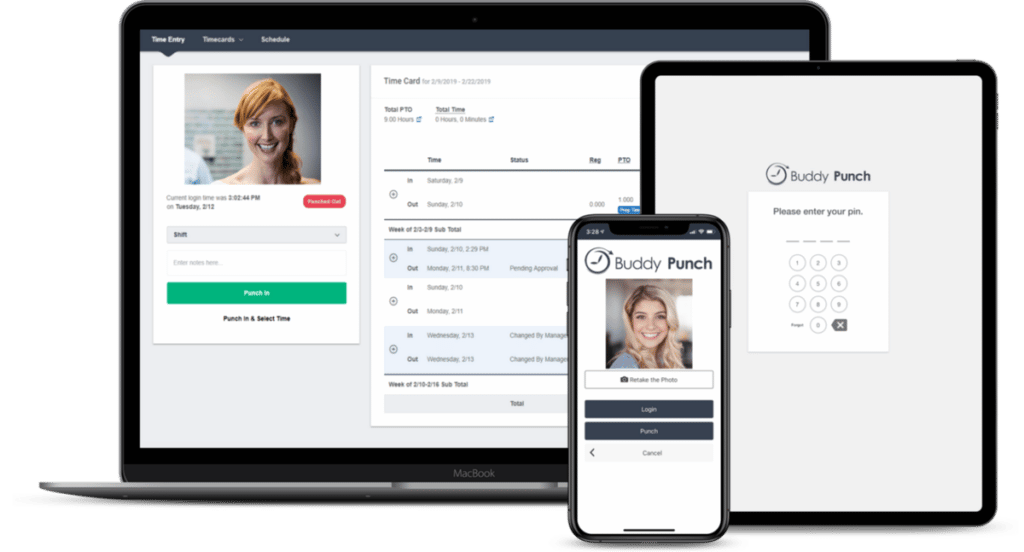 You may be wondering how we came up with our list of 3 attributes to judge time clock software on. It's because those were the ones we realized were most important to our operations when we began to expand our business and needed to find an employee time clock software that could replace the then-manual methods we relied on to track employee hours.
But that criteria wasn't created with just our own sensibilities in mind. We reached out to other business owners, and eventually began to foray into creating our own web-based time tracking solution to address all the concerns we were hearing. Flash forward to today, where Buddy Punch has made a name for itself.
With features such as Facial Recognition, Job Codes, Drag & Drop Scheduling, Notifications, Overtime Calculations, PTO Management, Customizable Reports, Payroll Integrations, and more, Buddy Punch is one of the most effective time & scheduling software options for medical offices.
Next, let's dive into each of these features to further explain how exactly they're useful in the healthcare field.
Note: If you'd prefer getting hands-on experience with Buddy Punch, you can sign up for a 14-day free trial by clicking here.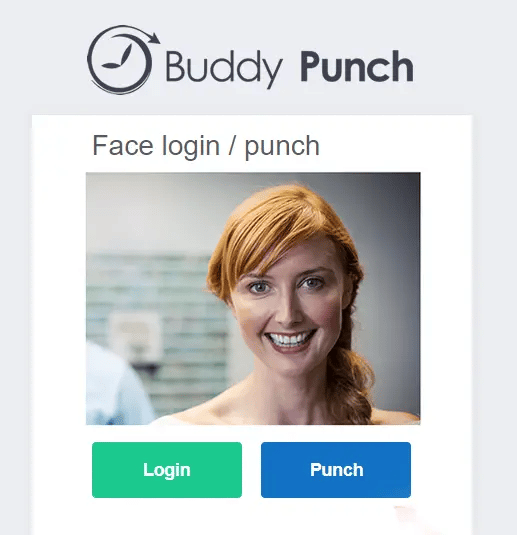 Buddy Punch's Facial Recognition is a biometric time clock feature that cuts down on time theft, increases security, and can even be a sanitary method of logging time if you've set up Buddy Punch as a kiosk in your medical office. This feature takes a picture of an employee on clock in and compares it to the photo of the staff member that was saved on file in order to ensure it's the same person.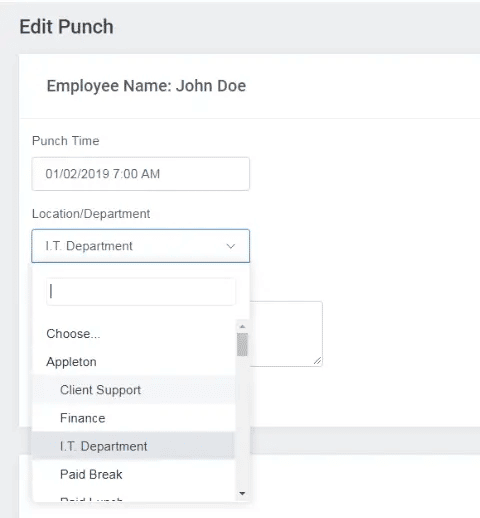 The Job Codes feature, also known as department codes, allows your employees to enter a code when they clock in to designate what task they're working on. Job Codes can easily be swapped between while on the clock.
This feature puts you in a position to identify labor costs and streamline how your team members work to save time and effort on tasks that aren't critical for your medical staff or patients.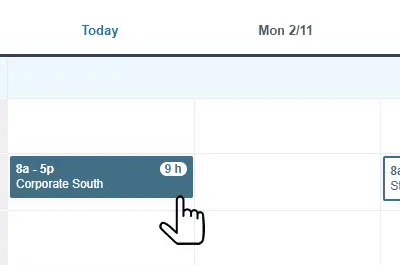 Buddy Punch also comes with a host of scheduling features for business owners to exercise greater control in healthcare. The Drag & Drop scheduling feature lets you easily create a shift by clicking on an empty cell, which you can then place around as needed. Then you can click said shift to edit it, and once you publish the schedule, all your medical office staff that are scheduled will be alerted automatically by Buddy Punch's built-in notifications system.

Speaking of Notifications, Buddy Punch has a built-in system that handles automatic messaging for important events, which allows medical staff to focus on their work throughout the day. If something important happens that needs their attention, they'll be notified.
Notifications include Punch change emails, Punch Ins and Out, PTO Changes, Leave requests, alerts on overtime, and time card approval status changes. These systems vary on the employee side compared to the administrative side, but all can be enabled or disabled at will.
The overtime calculations feature lets you choose from more than a dozen different types of overtime to figure out how your overtime pay is calculated. Regular, overtime, and double overtime will be calculated for you and your staff automatically – and it can be viewed by anybody in the time reports. New types of OT calculation can always be added at your behest – just reach out to us.
Buddy Punch's Paid Time Off management system makes it easy to keep up with your employees' leaves (sick days, vacation time, personal time, etc.) You can use the built-in PTO types or create custom ones at will and also get access to a PTO accruals feature.
With Buddy Punch, your office staff have the freedom to take a self-service approach to PTO. Instead of the standard way of dealing with leave requests (employees send them in, you're required to approve or deny the request), this lets employees be automatically approved for any PTO they request. This frees you up to focus on other parts of your operations or deal with patients.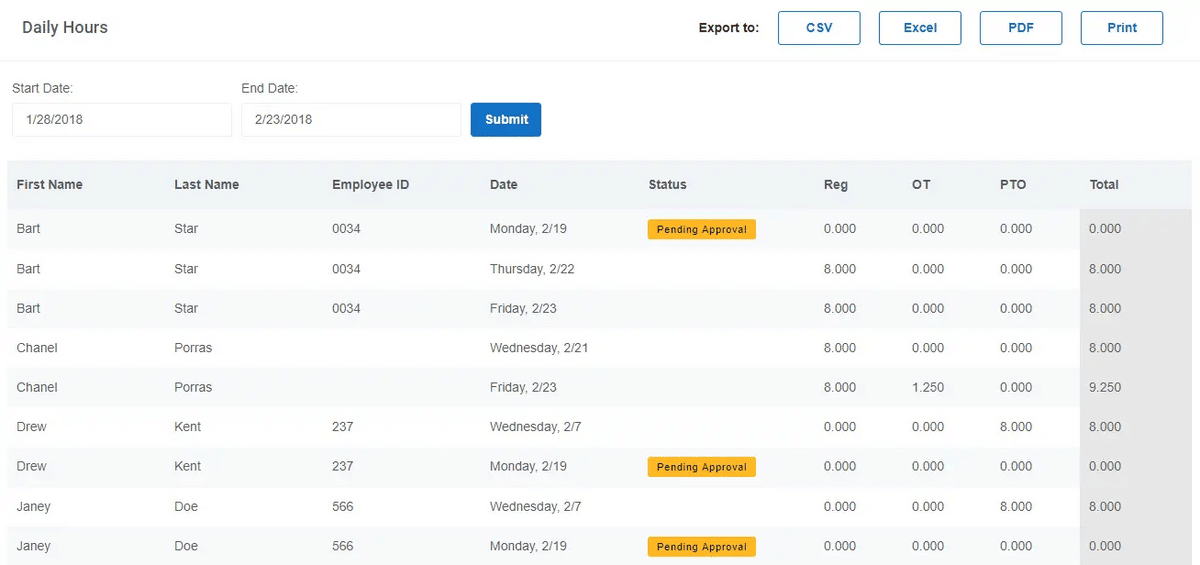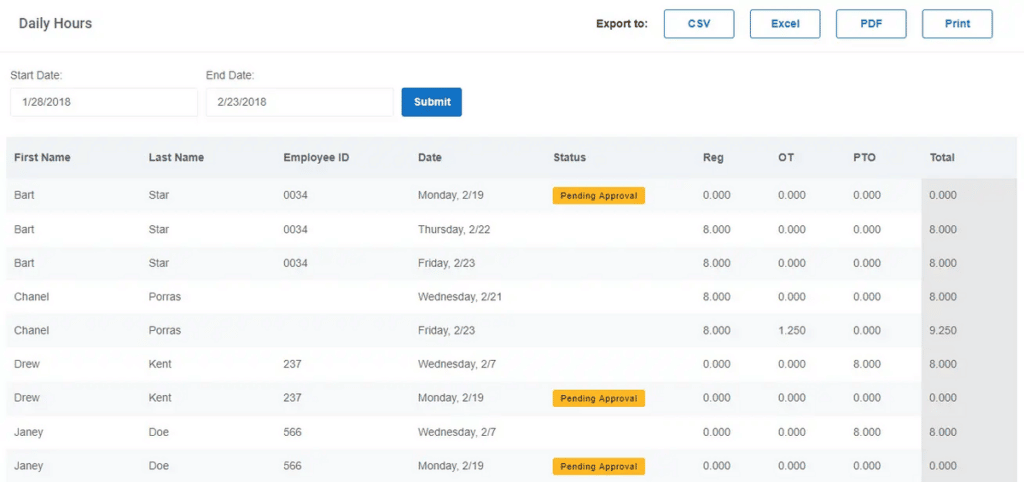 Buddy Punch comes with many customizable reports that you can use to get a closer look at the inner workings of your business. There are Payroll Reports, Hours Summaries, PTO Summaries and more (click here to view the comprehensive list). All of these reports can be exported as Excel CSVs or Adobe PDFs.


Buddy Punch integrates directly with many popular payroll software options, making it easy to organize data for payment, billing, and invoicing. Some of the big names we work with include QuickBooks, Zapier, ADP, and more. Click here to view the full list to make sure we can mesh with your current preferred software.
Buddy Punch Brings More to Medical Businesses
So far, we've only highlighted a select few features that Buddy Punch has, but there's a lot more to the software (with features that function at remote job sites and offices as well) such as:
There are also out of app benefits to consider:
Buddy Punch contains a help doc center filled with information on how to best utilize the software in your office. Whether it be through text guides or videos, our cloud-based time clock is completely demystified for business owners.
Our blog section is consistently updated with information on how to better run offices, new laws and the impact they may have on workforce management, and even comparison posts stacking Buddy Punch against other software for specific purposes.
Lastly there's our customer support section, which puts you in contact with a responsive and effective team via live chat. We know that the medical field especially needs quick answers and quick resolutions. Buddy Punch delivers on this in spades.
Buddy Punch works across desktop devices in your office, as well as on mobile devices (smartphones, tablets, etc.). If you want to get a better feel for the software, you can book a one-on-one personalized demo here.
Buddy Punch's Online Reviews
As of the writing date, Buddy Punch has 4.8 out of 5 stars and 706 reviews on Capterra.

Below, we'll list just a few reviews that speak to Buddy Punch's effectiveness as an on-site time clock in an office setting. (Click here to explore the full list of reviews.)
"Buddy Punch was easy to use for all of our employees and I am able to access it from my home rather than having to remember when I went into the office to make adjustments to time cards, approve PTO, or print reports. Also, even though I set specific pay periods, I am able to print reports with whatever date ranges I indicate. I find that very useful…"

(Click here to read the full review.)
"I love many things about this software! 1) It is self-explanatory. Even the most technically-challenged employee can figure out how to use it, for the most part. 2) Edits are made by the employee, and approved by the administrator where other programs require the administrator to make all the changes. 3) This program is available even when our electricity goes out or our server goes down…"

(Click here to read the full review.)
"Buddy Punch has been a super efficient business solution for our office. It is very user friendly. The integration with Quickbooks has streamlined our payroll which has been a huge plus. Most importantly to me as the administrator who's been responsible for the complete set up and training of all staff- the Buddy Punch customer service team has been absolutely outstanding!…"

(Click here to read the full review.)
"So far, the Buddy Punch App has saved me time with the weekly payroll timecards. I don't have to depend on the employee turning in their timecard in person on Monday morning. It is especially helpful because they work on multiple jobsites and not in the office…"

(Click here to read the full review.)
You can read these full reviewers or scroll through the Buddy Punch Capterra page. Either way a consensus becomes clear: Buddy Punch is intuitive and easy to use for both medical staff and office managers alike.

Try Buddy Punch for Free
If you think Buddy Punch might be able to handle time tracking in your office, sign up for a 14-day free trial. You can also book a one-on-one demo, or view a pre-recorded demo video.
Connecteam is a versatile time tracking tool that prides itself on being an all-in-one office app for communicating, managing, and training employees. It comes with many varied features including:
As of this article's writing date, Connecteam has 4.8 out of 5 stars and 192 reviews on Capterra.
"It has been so easy and so effective and all inclusive that after we started using it in one of our branch offices, we pitched it out to corporate and they were so impressed with what it can and does do for us and the time savings it has provided for various departments that it is now aggressively being rolled out across the Pacific Northwest offices and here in our southwest branches, it is officially our scheduling and time keeping software and we plan to integrate more and more features as we move forward…"

(Click here to read the full review.)
For office managers working with a tight budget, Time Clock Wizard works a free time clock with basic features (though you'll have to pay to get access to more involved features and reporting).
You can trial the Time Clock Wizard with a credit card. As of this article's writing date, When I Work has 4.3 out of 5 stars and 86 reviews on Capterra.
"I still use Time Clock Wizard quite often even though my invoicing system has a time clock built in. I like the simple use of the time clock wizard over the bulkiness that is in my invoicing software, plus the fact that time clock wizard sends prompts from time to time to make sure you didn't forget to log off your time for projects…"

(Click here to read the full review.)
Hubstaff is a time clock with a wide variety of features including (but not limited to):
As of the writing date, Hubstaff has 4.6 out of 5 stars and 1280 reviews on Capterra.
"This software is of great importance in the company, because it has made it easier for us to be able to program the daily tasks that our collaborators have to carry out and above all that I can monitor how they are progressing in their work and see how efficient they are, it really helped a lot to optimize our worked. "

(Click here to read the full review.)
At the time of this post's writing, Paymo has a total of 18 reviews on Capterra (see here), with an average of 4.4 out of 5 stars. Some of its key features include:
"We use the free version of this software and it is a wonderful product for our company. Our employees are able to clock in and out from any computer and I am able to see schedules and track hours with ease. Out of all the office time clock softwares I've used, this is my favorite…"

(Click here to read the full review.)
Choosing The Best Online Time Clock for Your Medical Office
Though we've managed to narrow down the potential options based on our criteria, business owners still have to take a close look at each software to determine which ones will work best for their medical office staff.
For example, if you want an online time clock that includes checklists and forms for organization, Connecteam might be up your alley. Or, if you want a time clock that has data protection, you might like Time Clock Wizard.
Alternatively, if what you're seeking is a time clock system that comes with a wide variety of features, a simple design that makes it easy to implement into your operations, and a responsive and helpful customer support team, then you really can't go wrong with Buddy Punch.
Try Buddy Punch for Free
If you feel that Buddy Punch could be the right time clock for your medical office, sign up for a 14-day free trial. You can also book a one-on-one demo, or view a pre-recorded demo video.

You May Also Like…