Online Time Clock for Jewelry Store Options for Time Management (In-Depth Post)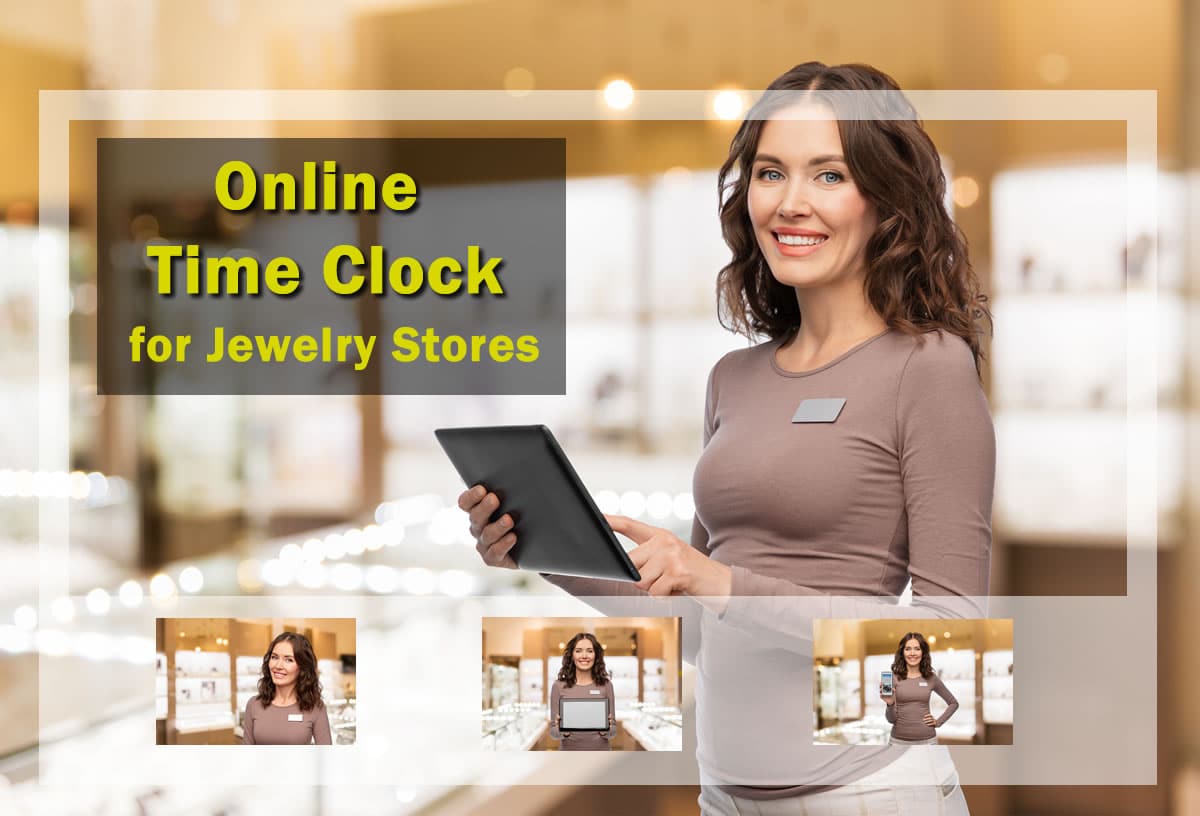 Between inventory management, employee responsibilities, and seeing to customers, managing a Jewelry store can be quite a task for business owners. One thing that makes it easier to handle is proper time management – and the easiest way to get this under control is by turning to online time clock software.
But that has its own challenges. For one, there's hundreds of time clock software out there on the market. And if you choose the "wrong" one, as in one that's difficult for your employees to use, it's going to detract from their ability to focus on other important tasks such as jewelry repair or rearranging timepieces for display.
In this post, we're going to outline our top 6 picks of time clock systems. There are three criteria we're using to rank them:
Employee Accountability. In our opinion, a high-quality employee time clock should encourage team members to make the most of their time with features that aren't too invasive. We're looking for features that gently push employees to spend less time watching the wall clock and more time seeing to customer checkout, finishing watch repairs, or learning about gemstones so they're better informed to answer customer queries.
Design Simplicity. Some timekeeping software can become overwhelming in their quest to chase as many features as possible. We believe the ideal time tracking solution will have a simple enough design that any employee can quickly understand. In particular, beginning to track clock in and clock out time should be simple on the side of your staff members regardless of which device they use (Desktop, Android or iOS Smartphones, etc.).
Payroll Streamlining. Handling payroll is another important aspect of workforce management that most modern solutions should be expected to make easier. Whether that's through built-in features to aid in the process, or through integrations with payroll software, something should be provided to help reduce the amount of effort that business owners are expected to put in at the end of each pay period.
With our ranking system firmly established, let's dive into some of the best time clock apps on the market for jewelry store owners.
Online Time Clocks for Jewelry Stores
Seeing us list Buddy Punch so high up may seem biased, but it's worth noting that our high opinion of our own software is shared by our customers (which we'll get into later). For now, we think it's important to mention that we came up with our prior criteria for high-quality time tracking software (employee accountability, design simplicity, payroll streamlining) thanks to our experiences that led us to seek out–and eventually decide to build our own–online time clock.
Back in 2013, we were managing a small team of employees while increasingly turning towards expanding our operations. We quickly realized the manual methods of timekeeping (using spreadsheets to collect time data, and manually running payroll) was a huge drain on both time and profit, so we started to search for digital time trackers to make our tasks easier.
At the time we thought our wishlist of features was fairly reasonable, but none of the software we tried out, even the best sellers, fit our needs. So, we pulled from our experience, asked other business owners what they'd like to see in a time clock software option, and began to develop Buddy Punch.
Fast forward to today: with features such as Drag & Drop Scheduling, Job Codes, Biometric Facial Recognition, Notifications, OT Calculations, PTO Management, Customizable Reports, and Payroll Integrations, Jewelers are empowered with a full suite of employee management tools.
Next, let's dive into each of these functions to show how exactly they're relevant to Jewelry store owners.
Note: If you'd rather skip the breakdown and get a feel for Buddy Punch yourself, you can start a 14-day free trial of Buddy Punch by clicking here.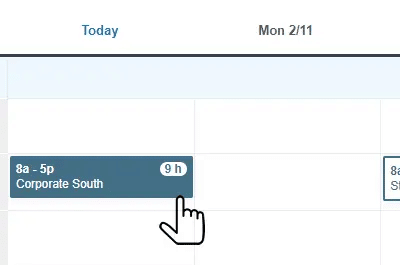 Buddy Punch's Drag & Drop Scheduling makes it easy for you to schedule who's doing what in your store. Simply create a shift by clicking on an empty cell, then drag and drop it in the schedule as required. You can edit shifts easily by clicking on them, and when you're satisfied with the schedule, pressing publish will notify all relevant employees.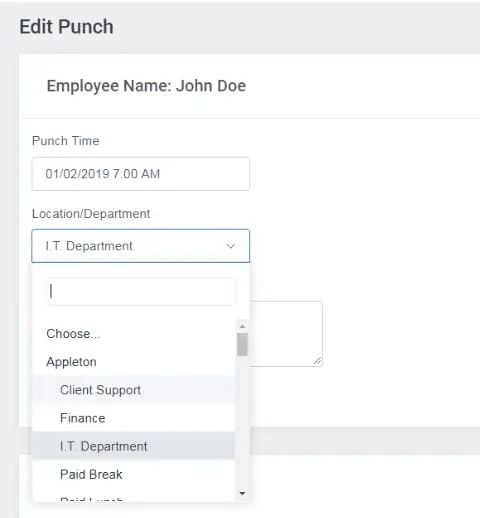 The Job Codes feature (also known as Department Codes) allows you to see which specific tasks your jewelry store employees are working on throughout the day (watchmaking, fixing chronographs, arranging office products, etc.). This makes it much easier for business owners to identify which tasks are most time consuming and which tasks are most profitable. When you check employee time cards, you'll see all tasks listed.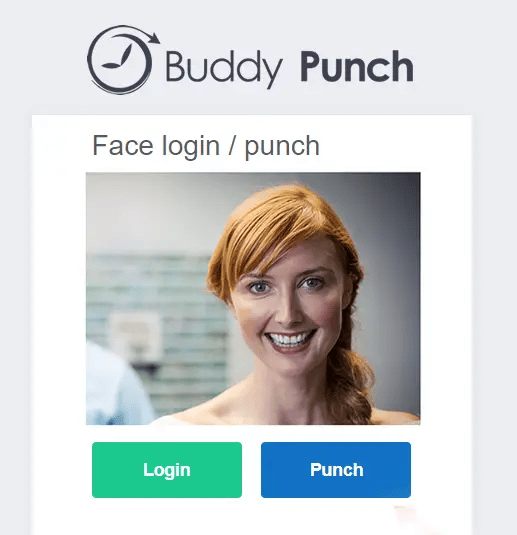 Buddy Punch's Facial Recognition Feature helps ensure that no time theft is occurring on the clock. This feature takes a live image of your employees when they clock in (via webcam) which helps ensure that they are who they claim to be while logging time. Ironically, Buddy Punch makes it hard to get away with buddy punching for your friends when they're late or absent.

The Notifications feature allows employees to focus on their work while knowing that if anything important happens, they'll be notified. More specifically:
Employees are notified of punch change emails, time card approval status changes, PTO changes, email alerts when approaching overtime.
Meanwhile, managers and administrators are notified of punch change emails, notifications on every punch in/out, time card approval status changes, PTO requests or changes, and alerts as employees approach overtime.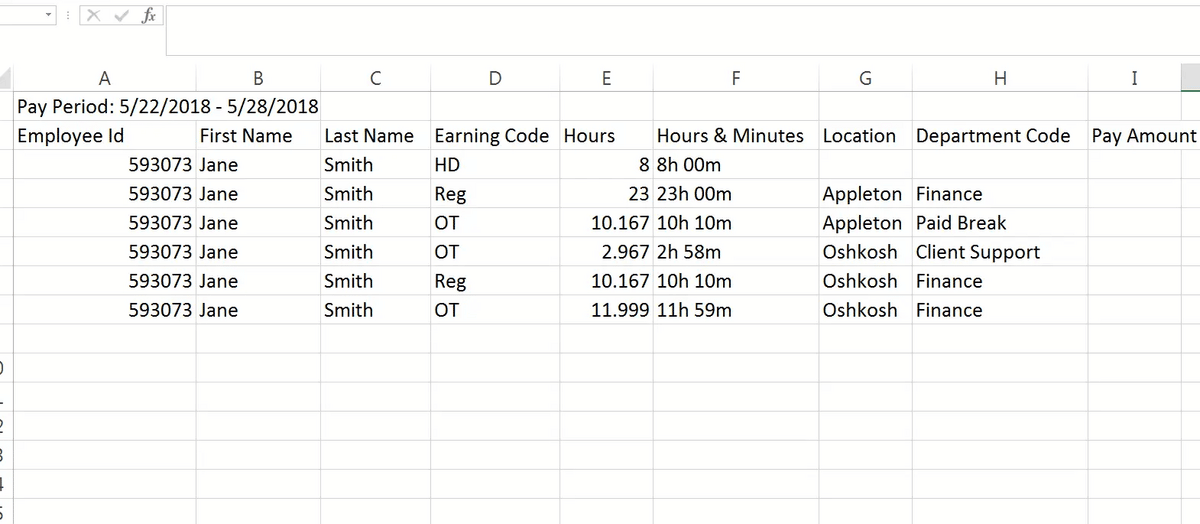 Select from more than a dozen different overtime types to determine how overtime pay is calculated for each of your employees. Each salaried employee can have a different overtime type if needed. Regular, overtime, and double overtime is calculated automatically for you.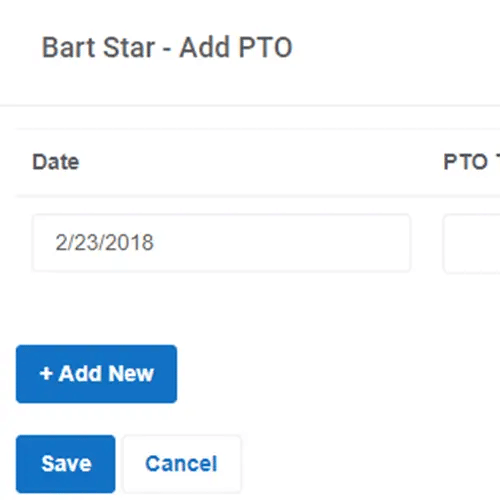 Buddy Punch's PTO Management feature lets you easily make use of the more common PTO types, as well as empowering you to create custom ones at will. But it gets better–you can also enable a self-service approach to PTO with Buddy Punch. Instead of the usual way of handling leave requests (sending a notification to managers who approve or deny the request, which sends a notification back to employees and informs them of the decision), self-service lets employees be approved for leave once they request it.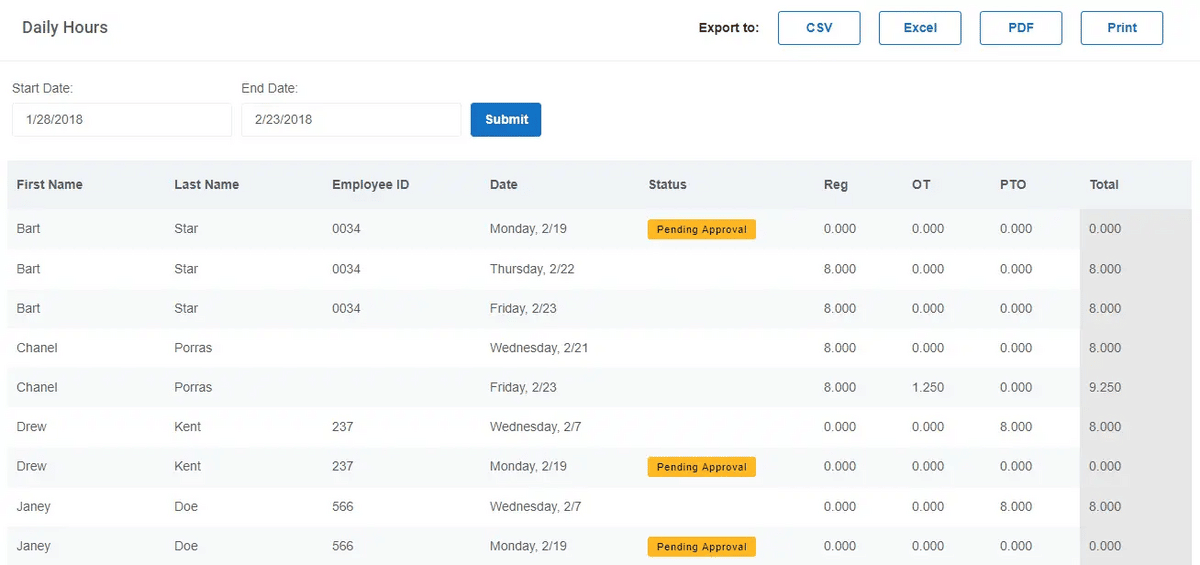 Buddy Punch offers a wide range of reports that can be generated on demand to get a better understanding of your business. From Payroll Exports to Hours Summaries and more – these are all reports that can be exported as Excel CSVs or Adobe PDFs depending on your preferences.

Buddy Punch's integration with popular payroll software makes it easy for jewelry store managers to get a handle on billing, invoicing, and payroll. Some of the popular names we work directly with include Zapier, QuickBooks, Paychex, and more. Click here to view the full list.

Buddy Punch Empowers Jewelry Store Owners
It's important to note that we've only highlighted a select few features that Buddy Punch has. There's still more to take note of, such as:
Then there's also the out-of-app uses of Buddy Punch to consider.
We have a help doc center that contains useful information on how to get the most out of Buddy Punch when it comes to managing your employees.
We also have a blog section that contains many useful workforce management tips across a wide variety of industries, as well as the occasional breakdown of new laws and how they'll impact businesses across North America
Lastly, you can always reach out to our customer support via our help desk to have your questions and concerns answered.
Interested? You can book a one-on-one personalized demo here.
Buddy Punch's Online Reviews
Earlier, we mentioned that we're not the only ones with a high opinion of our software. Well, here's the proof: as of this post's writing date, Buddy Punch has 4.8 out of 5 stars and 708 customer reviews on Capterra.

Below, we'll list just a few reviews that speak to Buddy Punch's impact on workforce management. (Click here to explore the full list of reviews.)
"Buddypunch gives us a lot of abilities to manage our employee that we didn't have before. We literally made the leap from paper timesheets to a system that every employee has to utilize. As you can imagine, there were some lagging employees that did not embrace the idea of change. Once employees gained experience with the service, it has become a monumental change for our agency."

Click here to read the full review.
"Intuitive ,and a much cheaper option than Toggle which we have tried in the past ,and they completely avoided the per user billing system,which I find very ridiculous. Buddy-punch provides my team with an easy to use clock based punch in/punch out time management application, which didn't require a fingerprint scanner and still works. Buddy-punch has generally given us value for our money."

Click here to read the full review.
"The system is easy to use and our employees can operate it on their cell phones so we have more accurate time keeping as they travel to several properties and do many different types of projects in a day. The system allowed us to be able to add all the properties along with all project tasks so they simply have to just punch the buttons as opposed to having to type it all in themselves."

Click here to read the full review.
"I will say I truly do like working with Buddy Punch. Any time I have an issue, its immediately fixed and it seems like Buddy Punch is constantly taking customers issues and using those to fix the system overall. Every business is going to have issues, it's a matter of fixing them and improving."

Click here to read the full review.
As these reviewers all noted, Buddy Punch is intuitive, affordable, and easy to use.

Try Buddy Punch for Free
If you feel that Buddy Punch might be the right fit for your jewelry store management, sign up for a free trial. You can also book a one-on-one demo, or view a pre-recorded demo video.
Findmyshift is an employee shift scheduling software with features including (but not limited to):
If you have a small team in your Jewelry store (less than 5 team members) you can make use of FIndmyshift for free. As of this post's writing datte, Findmyshift has a rating of 4.6/5 stars, based on 728 reviews (see here).
"Findmyshift has completely changed the way we plan for staffing events. It has been simple enough for even our most IT-wary volunteers to take part in. The messaging feature allows me to tell all staff about sudden changes or announcements."

(Click here to read the full review).
Paymo is an online time clock that is specifically focused on fostering better teamwork between employees and managers. It achieves this through functions such as:
At the time of this post's writing, Paymo has a total of 424 reviews on Capterra with an average of 4.7 out of 5 stars.
"Time tracking is seamlessly integrated into our current designer workflow. This allows us to calculate the actual time spent on the job so clients understand where their money is being spent. It also allows us to identify where we need to increase project costs (9/10 times it's with 'customer correspondence')."

Click here to read the full review.
At the time of writing, Clockify has a total of 4246 reviews on Capterra with an average rating of 4.7 out of 5 stars. Some of its features include:
Like Buddy Punch, you can try Clockify for free, no credit card required.
"What cant be measured, can be controlled, Clockify helps in tracking time expended on various tasks and helps in time optimisation and resource optimisation, not only at the level of an individual but at a much institutional level . Having to work against a ticking clock makes me more punctual and productive at work and ensures that I don't deviate and default on my designated tasks."

Click here to read the full review.
At the time of writing, Timely has a total of 208 reviews on Capterra (see here), with an average of 4.7 out of 5 stars. Some of its key features include:
"I use timely on a daily basis, and it love it. I can plan my week ahead, manage my workload so I know if I can take on another job or not. It even tells me how much I will probably make this week, when I've filled in all the right elements in my project's page. It shows me how much more I can work on a project, and because it shows planned as well as logged, I can inform my clients way ahead when our budget limits are in sight. Logging is a gem."

Click here to read the full review.
QuickBooks Time (formerly known as TSheets) has a wide range of features including:
At the time of this post's writing, QuickBooks Time has 4.7 out of 5 stars and 5,717 reviews on Capterra.

"Hours and productivity are tracked easily day to day and the platform provides useful feedback. I have recommended it to other business leaders also."

Click here to read the full review.
Try Buddy Punch for Free
While we've narrowed down the list of available online time clocks to some of the strongest options, there's some filtering you'll have to do to figure out which one will be best for your jewelry store. A look at the features can be very helpful though. For example, if you're a fan of Kanban boards, Paymo might be the tool for you. If you're working on a budget, you might like Clockify.
Alternatively, if all you want is a powerful time tracking software with versatile features, an easy-to-use design, and a helpful customer support team accompanying it, then you really can't go wrong with Buddy Punch.
If you want to see how well Buddy Punch could fit for your managerial style in your jewelry store, sign up for a free trial. You can also book a one-on-one demo, or view a pre-recorded demo video.

You May Also Like…