Online Time Clock For Daycare (3 Options)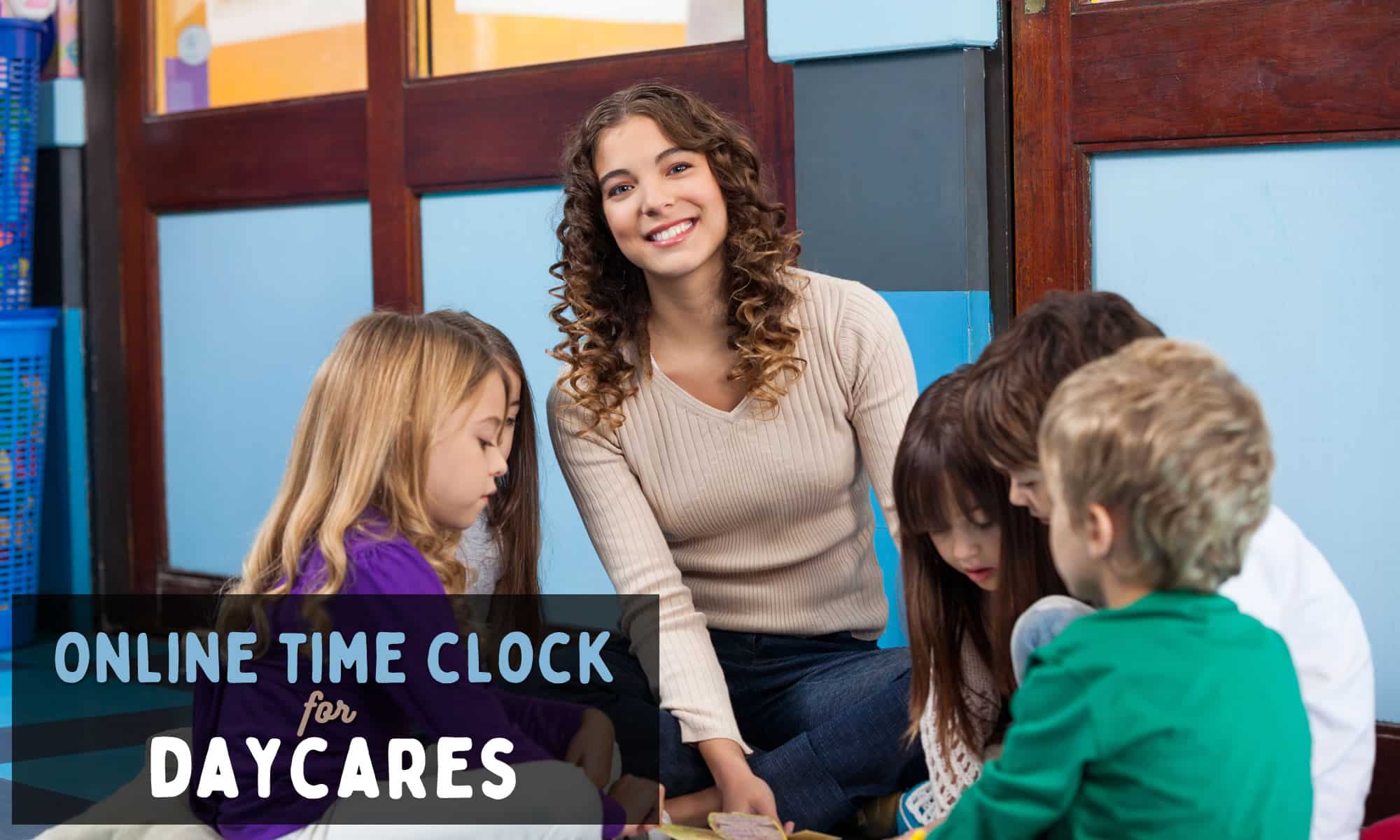 If you're running a small business in the childcare industry, you're likely looking for efficient solutions to track employee hours and manage your daycare operations. Your quest is over!
We've gathered three web-based time clock systems crafted specifically for childcare providers.
These time clock software solutions provide:
Real-time check-in and check-out monitoring with geofencing on mobile devices.
Contactless clock in/clock out using secure biometric features and facial recognition.
Templates for easy handling of time off requests and accruals.
Instant messaging notifications for center management, keeping you in the loop.
Integration with payroll processing systems, reducing time-consuming payroll tasks.
Regardless of your operation size, from an intimate childcare center to a larger early education institution, these online platforms offer real-time analytics that aid in informed decision-making.
Switching to these fully integrated web-based platforms, childcare providers can say goodbye to manual record keeping and physical time cards, and instead enjoy efficient time tracking.
These leading time clock apps have demonstrated their ability to boost productivity, streamline childcare management, and prevent time theft in the daycare industry.
Online Time Clock For Daycare
These platforms also come with additional features such as a parent app for seamless drop-off and pick-up communication, enrollment management, and real-time attendance reports.
This helps maintain necessary staff-to-child ratios, further supporting the management of your childcare center.
Let's delve into how these online attendance systems can bolster your daycare operations.
1. Buddy Punch
Buddy Punch is an all-encompassing time clock software uniquely engineered for daycares, ensuring streamlined team orchestration and management. Whether you're overseeing a modest daycare or a larger childcare institution, Buddy Punch guarantees effective time monitoring for peak performance.
Your Preferred Time Clock Software For Daycare
Buddy Punch flawlessly synchronizes with your current payroll systems, removing unnecessary complications and enhancing team efficiency. This lets daycare staff concentrate on vital activities, such as child care and ongoing learning.
The scheduling and time tracking software offered by Buddy Punch simplifies time administration for daycares via an intuitive interface. Team members can clock in and out smoothly with a single button tap, ensuring precise time recordings. Up-to-date timesheet data is readily available for team coordinators.
Heightened Security With Facial Recognition
Buddy Punch incorporates facial recognition technology to boost security and honesty. Daycare staff are instructed to take a self-portrait when clocking in and out, mitigating the chance of untruthful time recordings. This feature encourages fair time tracking while providing an extra security tier.
Instant Alerts & Updates
Buddy Punch generates customizable alerts that daycare staff can receive via email or on their mobile devices. Ranging from time-off request updates to approval statuses, these notifications keep everyone within your daycare updated and connected.
GPS Tracking For Offsite Daycare Employees
Buddy Punch provides GPS tracking features, especially useful for daycares that handle remote or blended teams. Supervisors can track where and when staff members clock in and out, enhancing transparency and accountability.
Visit our "Knowledge Base" to explore the range of benefits on offer.
If you have specific questions or require further assistance, our dedicated team is ready to help.
You can book a one-on-one personalized demo here.
Buddy Punch Is A Robust Employee Time Clock Solution
Here are just some of the features available to Buddy Punch users:
Buddy Punch's Online Reviews
Buddy Punch's user reviews highlight the immense benefits of this platform. As of the writing date, Buddy Punch has 4.8 out of 5 stars and 859 reviews on Capterra.
Below, we'll list just a few reviews that speak to Buddy Punch's ease of use and great customer support service. (Click here to explore the full list of reviews.)
As reviewers have noted, Buddy Punch provides team leaders and project managers with the necessary tools to streamline timekeeping and monitor labor costs:
"Overall, great! When I've encountered any issues or corrections to be made, it is usually handled in a few minutes not days or weeks, and the help features are detailed yet easy to follow."
Click here to read the full review.
"Easy to see time right before your eyes, easily add or delete someone, simple time changes and PTO addition."
Click here to read the full review.
"Buddy Punch is very user-friendly. My company has been using Buddy Punch for about 8 months and have not had any issues. Great Service. Great Price."
Click here to read the full review.
"Cannot say enough about their support. Even if the product was not as amazing as it is, I would highly recommend Buddy Punch due to the unbelievable support!"
Click here to read the full review.
Try Buddy Punch for Free
If you feel that Buddy Punch might be the right fit for your business, sign up for a free trial. You can also book a one-on-one demo, or view a pre-recorded demo video.
2. Hubstaff
Should you require a user-friendly approach for monitoring work hours, Hubstaff deserves your consideration. Catering to the unique demands of daycare, this platform is laden with a multitude of features. It extends from employee rostering tools to automated payroll and billing functions, thus providing you with the necessary resources to support your workflows.
As of the writing date, Hubstaff has 4.6 out of 5 stars and 1,412 reviews on Capterra. Hubstaff's attendance software offers a range of functionalities, some of which include:

"Very happy I moved from Time Doctor to Hubstaff. Huge improvements on all areas and a satisfying product to use. The experience is so good that I find myself wanting to stay with Hubstaff regardless of whether my need for time tracking reduces.
Click here to read the full review.
3. TimeCamp
For daycare teams seeking to streamline their time tracking, TimeCamp is a good solution. Its user-friendly tools make it easy to generate time tracking reports and keep tabs on employee progress. The platform equips business owners and team leaders with the vital resources necessary to monitor work hours with complete ease.
At the time of writing, TimeCamp has a total of 587 reviews on Capterra, with an average of 4.7 out of 5 stars. TimeCamp offers a full range of practical features for teams
"What impressed me the most is its real-time time tracking functionality. This feature makes it easy to collect accurate data about the time my team and I spend on each project, making it easy to calculate project profitability."
Click here to read the full review.
Try Buddy Punch for Free
If you feel that Buddy Punch could be the right fit for your business, sign up for a free trial.
You can also book a one-on-one demo, or view a pre-recorded demo video.
You May Also Like…