Online Time Clock For Carpet Cleaners (3 Options For 2023)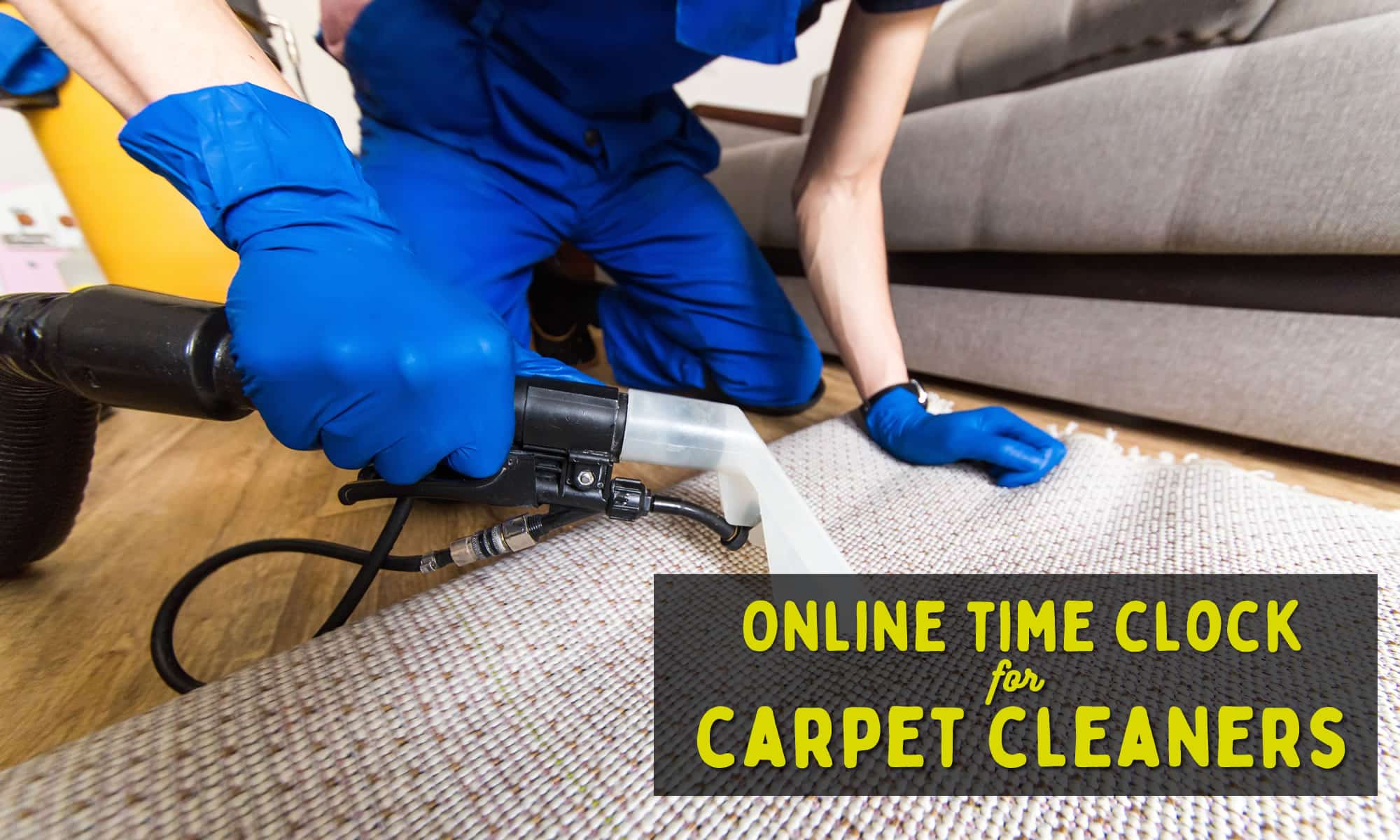 What is the best online time clock for carpet cleaners? You'll find out in this article.
In the bustling carpet cleaning sector, businesses can gain an operational edge by using an advanced online time clock system.
Straight off the bat, here are a few key benefits:
Carpet cleaning service providers can enhance their workflow by using a digital time clock system to consolidate all employee attendance data.
Implement biometric features such as facial recognition in your carpet cleaning software for safer clock-ins, and to prevent time theft and fraud.
Effortlessly integrate attendance data into your payroll process, wiping out the need for time-consuming Excel entries.
Spend less time on administrative tasks by automating the tracking of employee work hours over any pay period.
Utilizing a free time clock app can streamline clock-ins and outs, reducing no-shows by sending text messages as automated reminders.
Let's explore the best online time tracking solutions on the market for carpet cleaners.
Online Time Clock For Carpet Cleaners
Manage Carpet Cleaning Service Hours & Attendance
A time clock system enhances all aspects of employee attendance data, making it the ideal tool for your carpet cleaning business.
This software solution not only allows you to monitor how employees are spending their time during shifts, but it also provides real-time data for immediate insights into performance, thereby boosting your overall cleaning service quality.
Monitor Team Attendance & Performance For Optimal Service Delivery
The best carpet cleaning software allows managers to efficiently track labor costs and monitor team performance.
The added advantage of a mobile app helps remote and flexible teams use a digital time card system to log their hours.
This proves particularly useful for multi-site carpet cleaning companies. It's not just a tool – it's a key component of your business software.
Clock In and Out Remotely, Using Smartphones
The right time clock app can supercharge your carpet cleaning service, leading to increased productivity.
Regardless of your business size, a well-tuned time clock solution simplifies job management.
A time clock app empowers your team to clock in and out from any location using iOS and Android smartphones.
This feature is particularly valuable in today's flexible work environment.
Top Integrated Time Clock Solutions (3 Options)
1. Buddy Punch
Buddy Punch is a comprehensive time tracking platform ideal for carpet cleaning companies of all sizes.
Here are some of the key features that the platform offers:
Track time-off requests with ease using Buddy Punch's built-in calendar.
Flexible punch-in options, including QR codes and facial recognition, can be a boon for completing jobs efficiently.
Simplify accounting by integrating your payroll process with Buddy Punch.
With customizable templates and automated text message notifications, Buddy Punch proves to be more than just a tool for time tracking.
Its free time clock app can be used on smartphones to clock in and out from any location.
Buddy Punch's varied pricing caters to businesses of all sizes, making it an affordable solution for cleaning service businesses.
With these features, professionals can focus more on their core tasks such as steam cleaning, stain removal, and handling upholstery and area rugs to deliver the best carpet cleaning services.
Buddy Punch's Online Reviews
Buddy Punch's user reviews highlight the potential benefits of this platform. As of the writing date, Buddy Punch has 4.8 out of 5 stars and 859 reviews on Capterra.
Below, we'll list just a few reviews that speak to Buddy Punch's ease of use and great customer support service. (Click here to explore the full list of reviews.)
As reviewers have noted, Buddy Punch provides team leaders and project managers with the necessary tools for accurate time tracking and employee location tracking:
"I love how quickly you can log in to the Buddy Punch site and just simply hit the "Clock In" button. The program is incredibly easy to use and required no training at all, which I really appreciated especially since I'm just a very part-time employee who only uses it once a week."
Click here to read the full review.
"Easy and convenient to use. I enjoy being able to clock in or out from my desk."
Click here to read the full review.
"We mainly use Buddy Punch for the time clock feature and use the GPS feature to track where our employees clock in and out since they do so at a remote site. The feature is accurate and is easy to use on our employees' phones. If there are any issues it is easy for the administrator to log in and correct them."
Click here to read the full review.
Try Buddy Punch for Free
If you feel that Buddy Punch might be the right fit for your business, sign up for a free trial. You can also book a one-on-one demo, or view a pre-recorded demo video.
2. Hubstaff
Hubstaff stands out as a useful time tracking solution for carpet cleaning businesses.
With the convenience of a single click, carpet cleaners and other service professionals can log their client appointments and cleaning service hours.
This platform is an invaluable resource for carpet cleaning business managers, providing a comprehensive set of tools to efficiently monitor the attendance and performance of the staff, even when they are on the move.
As of the writing date, Hubstaff has 4.6 out of 5 stars and 1,413 reviews on Capterra. Hubstaff offers a range of functionalities, some of which include:

"Hubstaff has proven to be an effective time management and productivity analysis tool. Its ability to track employee locations and generate detailed reports has assisted us in improving team efficiency and collaboration. Although the integrations could be expanded, Hubstaff's core functionality is solid and provides useful insights for informed decision-making. I recommend this platform to businesses looking to improve the productivity and performance of their work teams."
Click here to read the full review.
3. QuickBooks Time
For carpet cleaning businesses seeking an efficient approach to track and process employee work hours for payroll, QuickBooks Time serves as an adaptive platform.
The solution is an independent powerhouse for time management, and the benefits can be reaped even without using QuickBooks' accounting software.
It holds substantial value for carpet cleaning services requiring a dependable mechanism to align employee schedules.
QuickBooks Time, when integrated with your chosen accounting software, can mitigate the load of administrative tasks in your carpet cleaning operations.
This allows you to channel more time and effort into delivering top-notch cleaning services, thereby reducing time spent on scheduling management.
It's an excellent timesheet app for Android and iPhone, and at the time of writing, QuickBooks Time has 4.7 out of 5 stars and 6,492 reviews on Capterra.
QuickBooks Time (formerly TSheets) has features that include but are not limited to:
"QuickBooks is very easy to set up and use, I like that I get an email when my paystub is ready to see and I also like that it is integrated with Turbo tax, which makes filing taxes extremely easy and stress-free. I like that frequently when I log in it asks for 2 step identity for added protection."
Click here to read the full review.
Try Buddy Punch for Free
If you feel that Buddy Punch could be the right fit for your business, sign up for a free trial. You can also book a one-on-one demo, or view a pre-recorded demo video.
You May Also Like…