Online Time Clock For Carpenters (5 Options)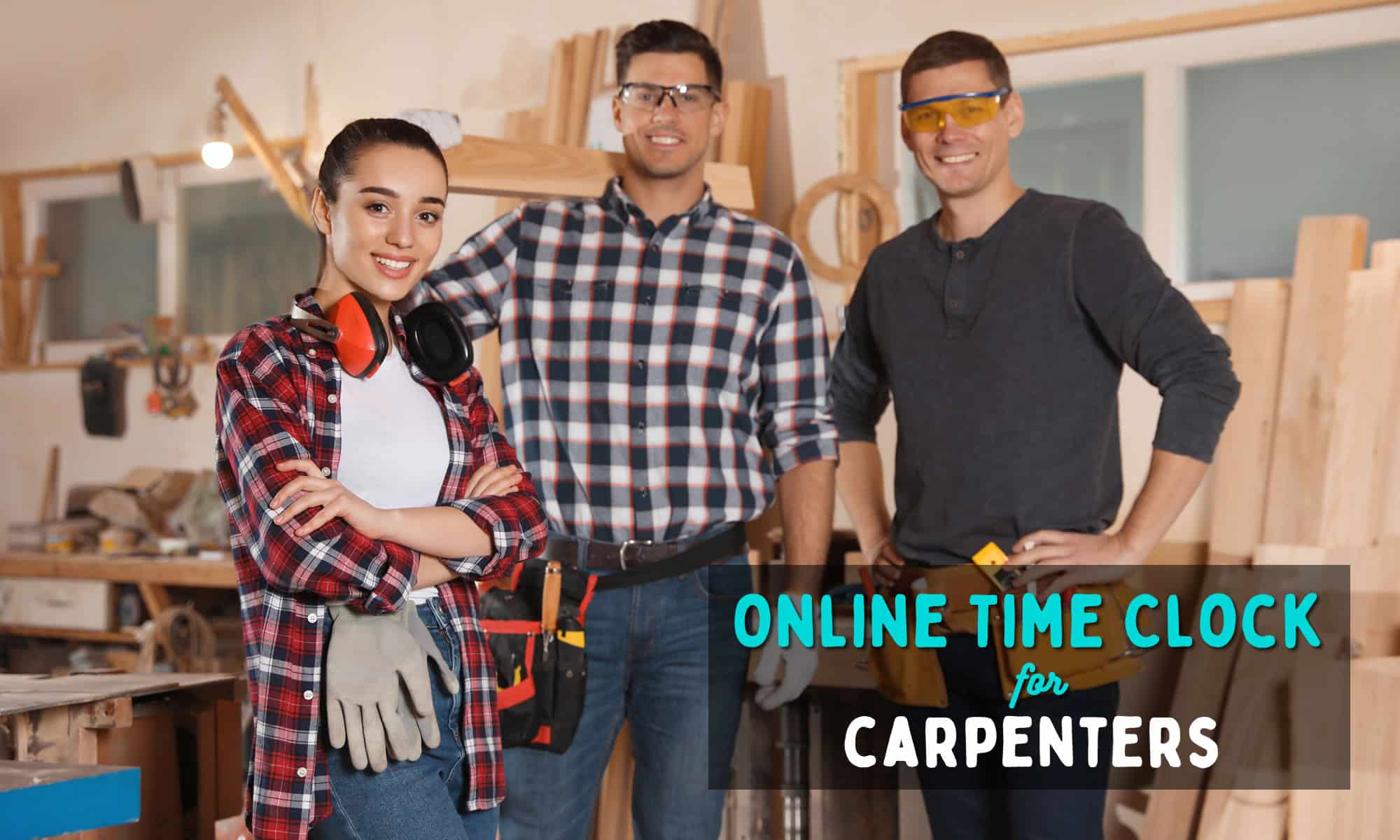 If you are searching for a time clock app for carpenters, we have pinpointed five options to choose from. Calculating time spent on different projects and tracking employee work hours can get remarkably easy with the right solution in your corner. Construction time tracking tools can play a significant role in raising productivity and ensuring you have accurate timekeeping data.
Here are just a few reasons why carpenters and construction workers need a time tracking solution in their corner:
Online Time Clock For Carpenters
1. Buddy Punch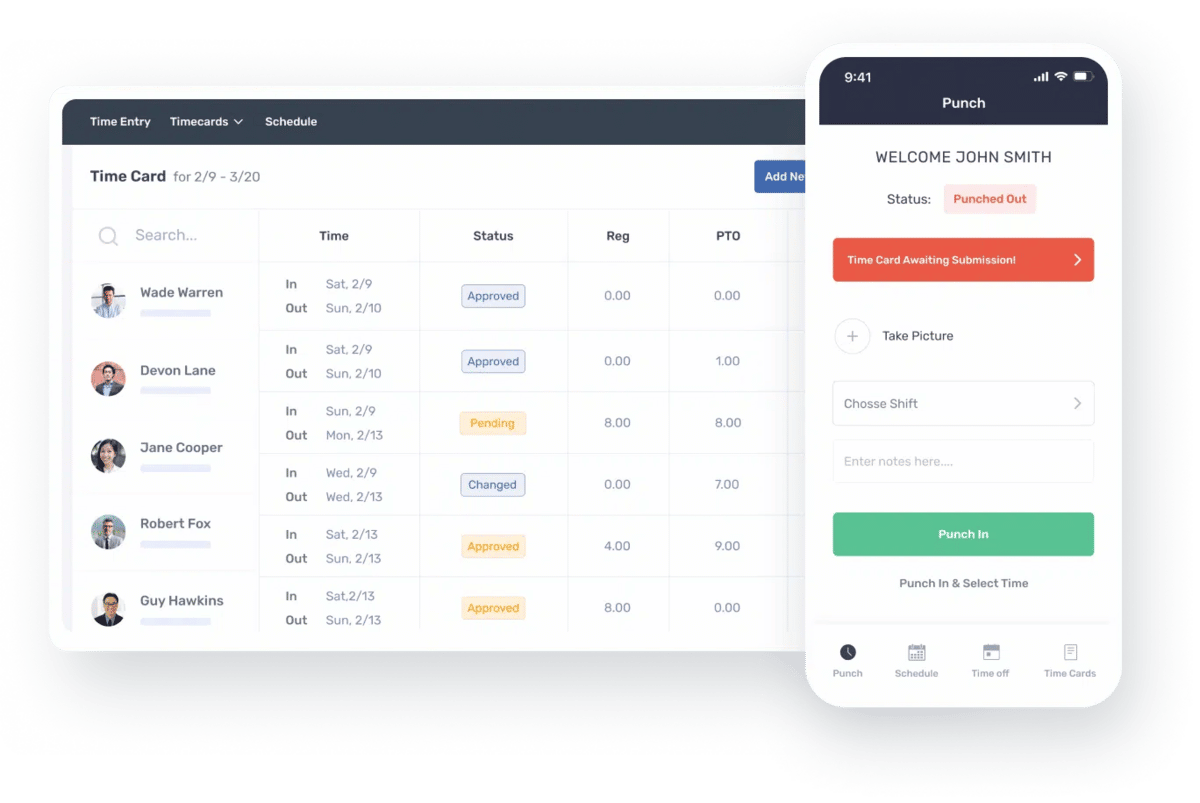 Buddy Punch is an all-encompassing time tracking tool that unifies all the elements of a great productivity solution. When it comes to tracking employee data for your carpenting business, the last thing you want is multiple solutions that fail to sync up. Navigating between various tools to gain a full picture of employee performance is far from efficient.
How Buddy Punch's Time Tracking Platform Works
Using Buddy Pinch, you can enable carpenters to complete time entries at the click of a button, no matter where they are located. That's right, this mobile time tracking solution is available across mobile and tablet devices. While carpenters are on the go, they can seamlessly punch in and provide project managers with all the employee data they need at their fingertips.
Let's hold a magnifying glass to Buddy Punch's platform and explore the most pivotal features.
A Dashboard Loaded With Real-Time Employee Data
If you want to unlock a treasure trove of employee or freelancer data, you need Buddy Punch. The platform's dashboard can provide project managers with a wealth of information. When it comes to making informed decisions about employees, having access to plenty of employee data is critical. Buddy Punch brings all attendance and performance data under one roof.
Foster Productivity & Hold Your Team Accountable
From monitoring labor costs to using geofencing to ensure employees are onsite, this GPS online time clock solution is well-equipped to meet your needs. Buddy Punch is packed with the necessary tools and features to support team productivity. If you want to promote accountability, this time and attendance system can play an important role in making this possible.
Make Leave Management As Easy As It Should Be
Using this time tracking app, you can approve and reject PTO requests with ease and stay on top of leave management. Team members can submit PTO requests through the platform, and you can then approve or deny these requests as needed. If you are trying to manage carpenters in multiple locations, having a system such as this can radically simplify all the logistics.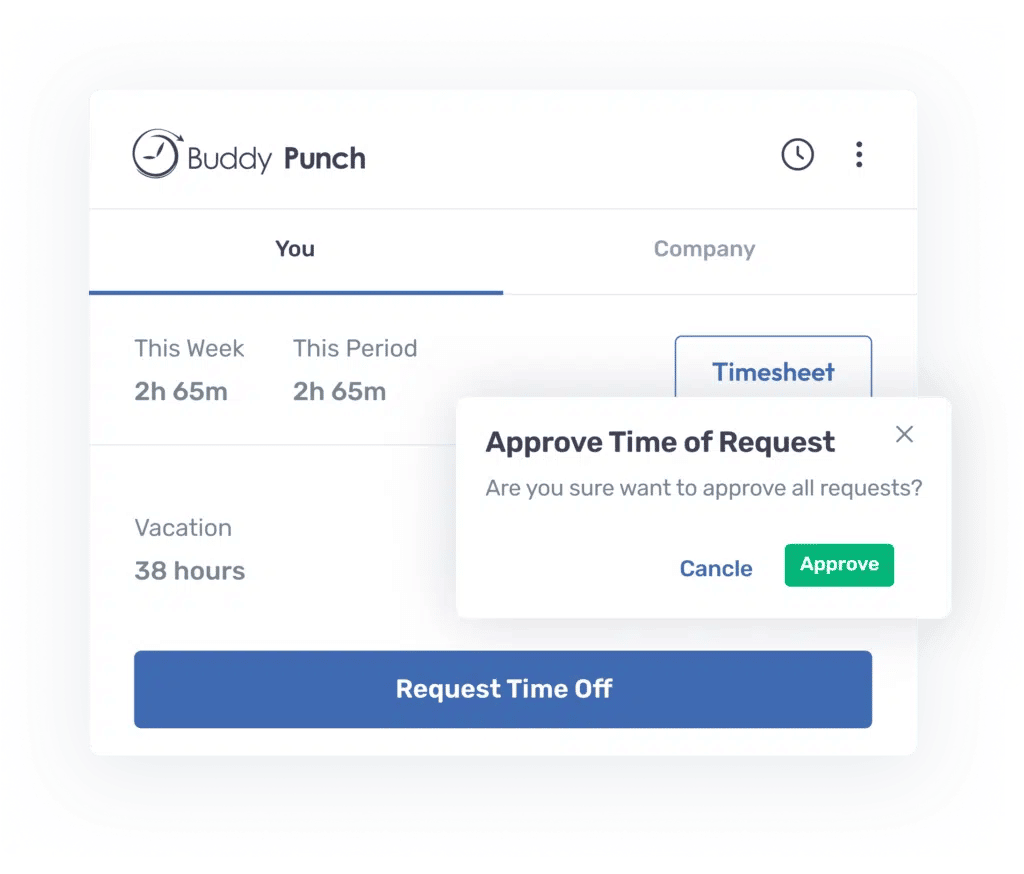 Buddy Punch offers no shortage of features for carpenting teams to explore for their benefit.
To learn more about how to use Buddy Punch to meet your operational needs, browse through the "Knowledge Base" on our website.
You can also reach out to us directly with your questions.
You can book a one-on-one personalized demo here.
Buddy Punch Is Ready To Meet The Needs Of Carpenters
Here are just some of the features available across the desktop and mobile app:
Buddy Punch's Online Reviews
The user reviews are overwhelmingly positive! As of the writing date, Buddy Punch has 4.8 out of 5 stars and 760 reviews on Capterra.

Below, we'll list just a few reviews that speak to Buddy Punch's ease of use and great customer support service. (Click here to explore the full list of reviews.)
As reviewers have noted, Buddy Punch provides team leaders and project managers with the necessary tools to promote team accountability:
"I love that the employees can clock in and out online and that we can summit payroll this way."

Click here to read the full review.
"Cannot say enough about their support. Even if the product was not as amazing as it is, I would highly recommend Buddy Punch due to the unbelievable support!"

Click here to read the full review.
"I like the ease of use and flexibility of Buddy Punch. You can add features you want and don't have to be bogged down with what you don't want to use. Some sites have way too much. I wanted simple!"

Click here to read the full review.
"This is a vast improvement over our antiquated system of having employees punch a time clock and then have someone send me a scan of each time card. I would then have to download all of them, look at them individually, tally the hours and then enter them into the payroll system! I do payroll each week in less than half the time now!"

Click here to read the full review.
"I have loved my overall experience with Buddy Punch. As I mentioned before their help is invaluable. Some companies have no chat, or phone number and you wait days to hear back from an email. Their immediate response is something they should never get rid of, no matter how big they become."

Click here to read the full review.
Try Buddy Punch for Free
If you feel that Buddy Punch might be the right fit for your business, sign up for a free trial. You can also book a one-on-one demo, or view a pre-recorded demo video.
2. OnTheClock
Much like Buddy Punch, OnTheClock combines all the key features you would look for in a time tracking platform and rolls them into a single solution. Imagine having the ability to track the attendance and performance of all employees from one location to another with one centralized application. This is what OnTheClock and many other solutions bring to the table.
OnTheClock offers various features, some of which include:
It is effective employee time tracking software for PC (Windows) and Mac, and it also works with mobile and tablet devices. As of the writing date, OnTheClock has 4.7 out of 5 stars and 520 reviews on Capterra.
"As an employer I wanted an easy to use time clock. This is and has been such an easy set up and managed program I could not recommend it more highly. The ability to assign managers for other employees has made my payroll day so much easier, which is a big time saver, making payroll a breeze."

Click here to read the full review.
3. Paymo
Paymo is equipped to meet the needs of those running carpenting businesses. You can easily track employee hours and collect timesheets using Paymo. This all-in-one solution is ideal for both small business owners are those trying to scale their operations. The platform also comes with a leave planner that enables you to plan around leave and vacation time.
Here are some of the best features Paymo has to offer:
At the time of writing, Paymo has a total of 439 reviews on Capterra, with an average of 4.7 out of 5 stars.
"For me, I see that Paymo has helped increase the productivity of all members of the work team, by reducing the time that was wasted on them in office work and allocating more time to fieldwork, which has a positive impact on the final result for sure. I also find that Paymo helps companies produce realistic, executable programs, as everyone's participation in the formation of the work program will make all things become clearer to everyone, thus avoiding making mistakes that may cost losses in money and time."

Click here to read the full review.
4. Timely
As a time tracking system, Timely brings plenty to the table. This employee time clock solution enables you to quickly collect timesheet data for payroll processing. No matter where your employees or contractors are located, you can easily receive time entries. Timely also offers a range of app integrations to ensure you can bake the solution into your existing workflows.
At the time of writing, Timely has a total of 208 reviews on Capterra, with an average of 4.7 out of 5 stars. Timely is loaded with a broad range of high-impact features:
"Timely allows for effortless management regarding your appointments with clients and staff. The software is very simple and easy to understand. You can also access it on both mobile and desktop."

Click here to read the full review.
5. Insightful
Insightful is another useful time tracking solution for carpenters. With automatic time mapping and employee monitoring tools, Insightful is an effective solution for carpenting teams of all sizes. Whether you are a small family owned business or an expanding organization with growth ambitions, a tool like Insightful has features to confidently support your needs.
At the time of writing, Insightful has a total of 79 reviews on Capterra, with an average of 4.7 out of 5 stars. Insightful lives up to its name by offering several useful features:
"It's easy to use, offers lots of information. You can have projects and put in the cost of the project so this tracks the hours and what the bill needs to be. It has both admin and user control panels and I got great support for my questions."

Click here to read the full review.
Try Buddy Punch for Free
If you feel that Buddy Punch could be the right fit for your business, sign up for a free trial. You can also book a one-on-one demo, or view a pre-recorded demo video.
You May Also Like…