Online Time Clock for Bike Shop Owners (Options Guide)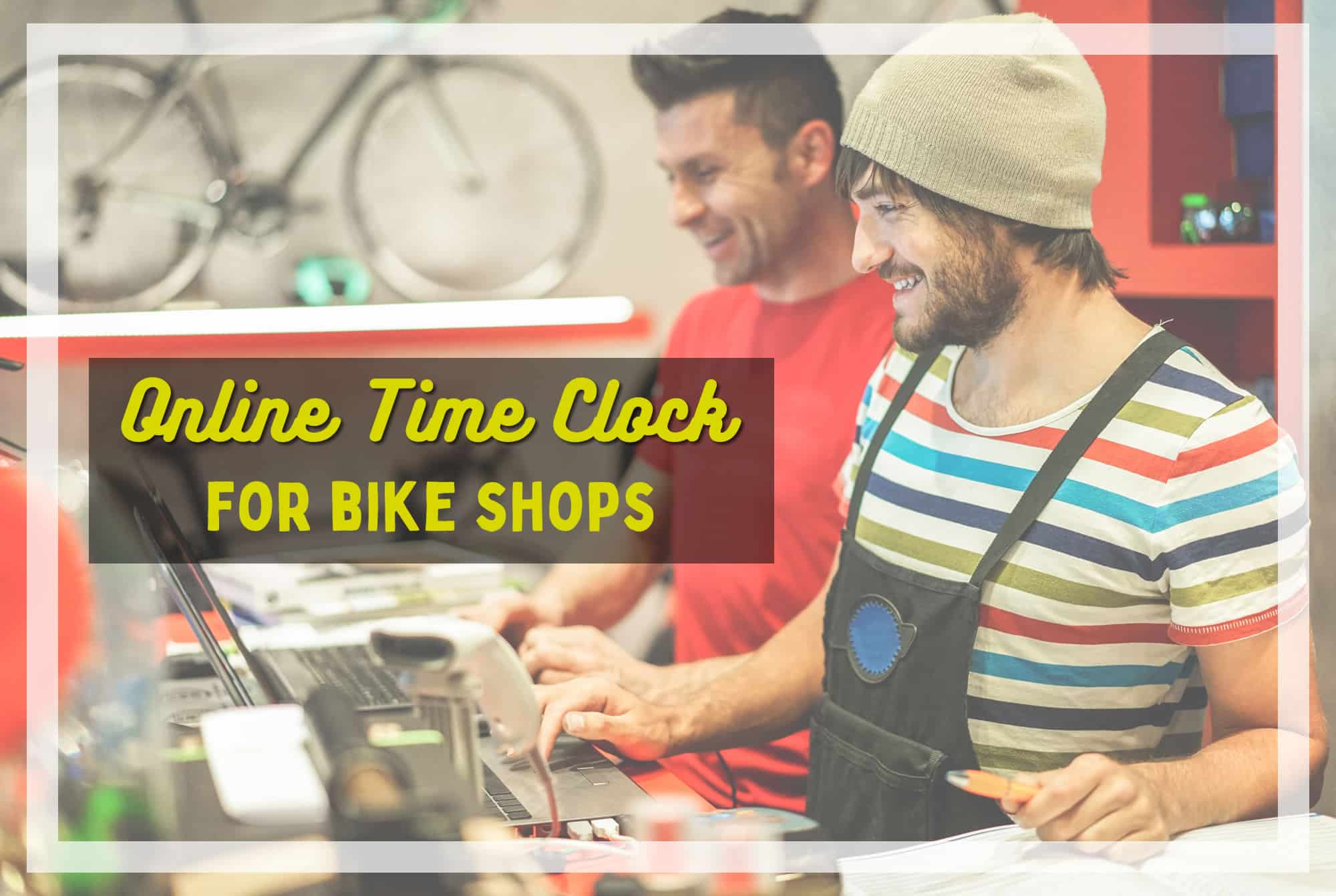 Running a bike shop comes with a set of unique challenges that distinguishes the experience from running other retail businesses. With what tends to be a smaller team, the core aspects of business management tend to weigh a lot heavier for bike shop owners: organization, competence, and optimization are key to distinguishing yourself as a high-quality seller of regular bikes, mountain bikes/MTBs, motorbikes, and more.
Choosing the right time clock for your store can be critical for helping with these aspects–while choosing the wrong one might end up impeding your productivity rather than improving it.
In this post, we're going to outline exactly how time & attendance software can help bike shop managers (through metrics, transparency, and employee accountability). Then, we're going to list our top 5 picks of time clocks that can help you streamline your operations, optimize your business, and ensure that staff & managers are all in sync in order to provide the best possible service to your customers.
Online Time Clocks for Bike Shop Options
The Challenges Bike Shop Owners Face


As we mentioned earlier, one of the reasons that bike shops can be uniquely difficult to run is because of their smaller teams, coupled with their varying space demands. For example, a bike shop that not only sells bikes and moto accessories such as handlebars and backlights, but also repairs them, will need space to collect said tech from cyclists, as well as an area where they can perform the repairs, all of which adds up to a more expensive lease and more sensitivity to cash flow on a monthly basis.
Another challenge is staying up to date when it comes to what you have in stock and which products are bringing in the most money. Are wireless odometers big in your area, and should you invest in more of them? Are handlebar mounts just not selling in-store? Without keeping records and analyzing the data on a regular basis, you could be missing out on adjustments you could make to drastically improve your bottom line.
Education is another big factor. For example, What do you and your team members know about the specs of the latest waterproof motorcycle models? If someone comes in asking about universal motorcycles, are you confident that any of your team members would be able to help them out, or would they be left to wander the store in a DIY manner (or worse, to leave the store and go to another).
We also mentioned how some bike shops offer repairs as well as selling bikes. In those scenarios, team members need to be able to swap between two mindsets (selling services vs. selling equipment) – which means you need employees skilled enough to identify which customer requires which approach, cadence, and style.
Take all of these factors together and it becomes clear: bike shops thrive or suffer based on how well they can optimize employee efforts as well as make use of data to make prudent business decisions.
How Time Management Software Helps
For most business owners, the quickest way to improve profitability is to start with optimization. Many online time clocks encourage employees to be more accountable with their time while working shifts. With knowing their time is being monitored, an employee that isn't helping a customer checkout might then turn towards being productive in other ways (such as looking up LCD displays, SRAM stainless steel shift cables, or ANT cycling computers) rather than idly watching the wall clock tick on.
Speaking of what employees are doing–time tracking software also helps you calculate time spent on jobs (restocking, repairing, research, etc.) which can help you figure out which employee tasks are leading to the most desirable outcomes for your business.
Then there's the more general benefits of using time tracking software – GPS Tracking can help you keep track of remote employees or commuters and integration with Payroll Software makes it easy for you to ensure that employees are paid accurately and swiftly for their time.
Once you've got things on the backend optimized, you can start adjusting to reflect this. You can afford to reduce costs on your materials since you're saving money elsewhere and use those low prices to help drive business. Or you can use the saved time you're accumulating to invest in training your employees or reaching out for business opportunities and further ingratiating yourself in the local community. (It may sound retro, but bikers tend to be more welcoming and perceptive to face-to-face methods).
Not to mention that with bike accessories like stopwatches, clock watches, and digital clocks, it'd be quite ironic if bike store owners didn't manage time themselves.
Now let's get into our top 5 picks of time tracking software for bike shops and why we like them.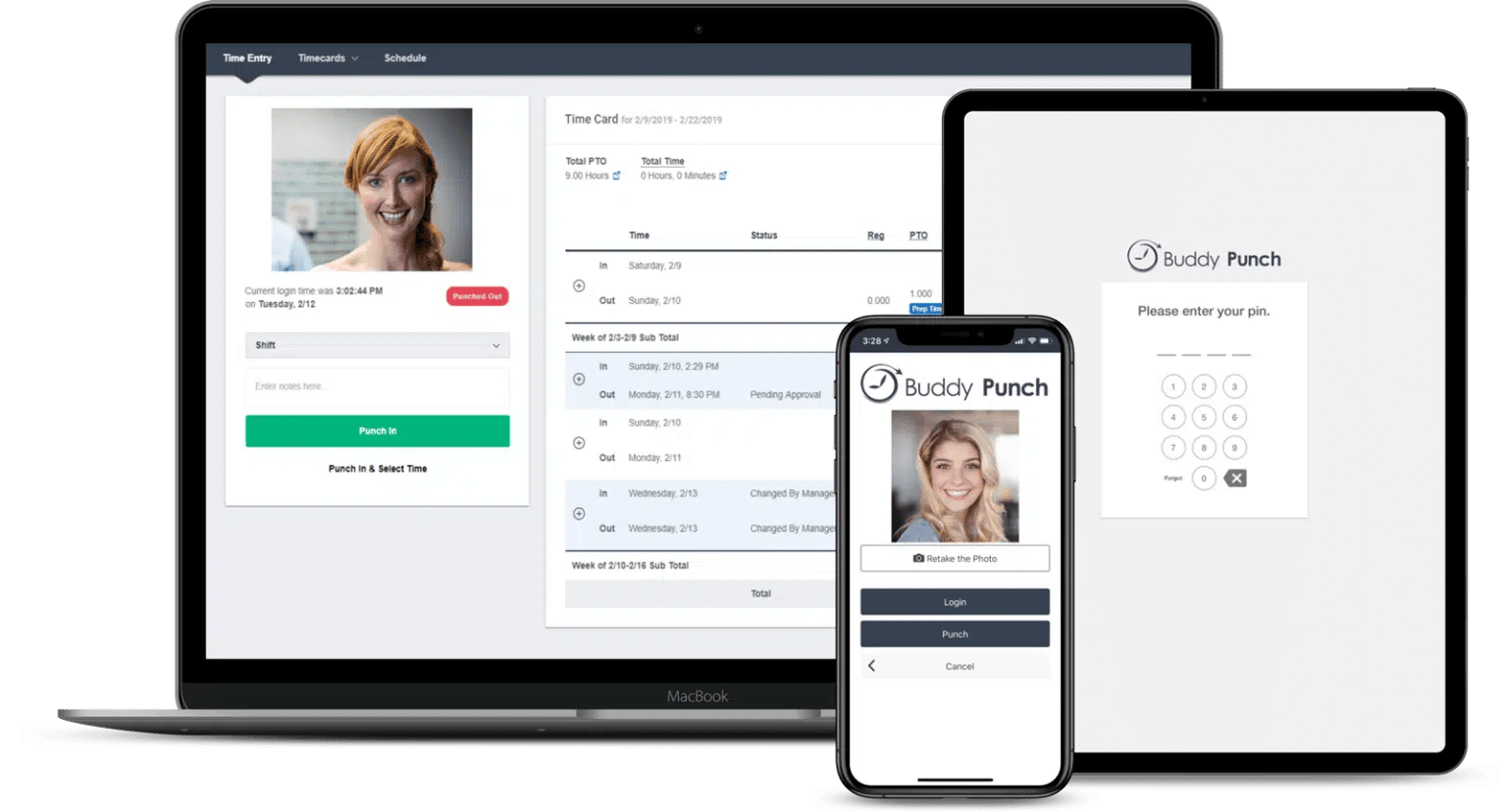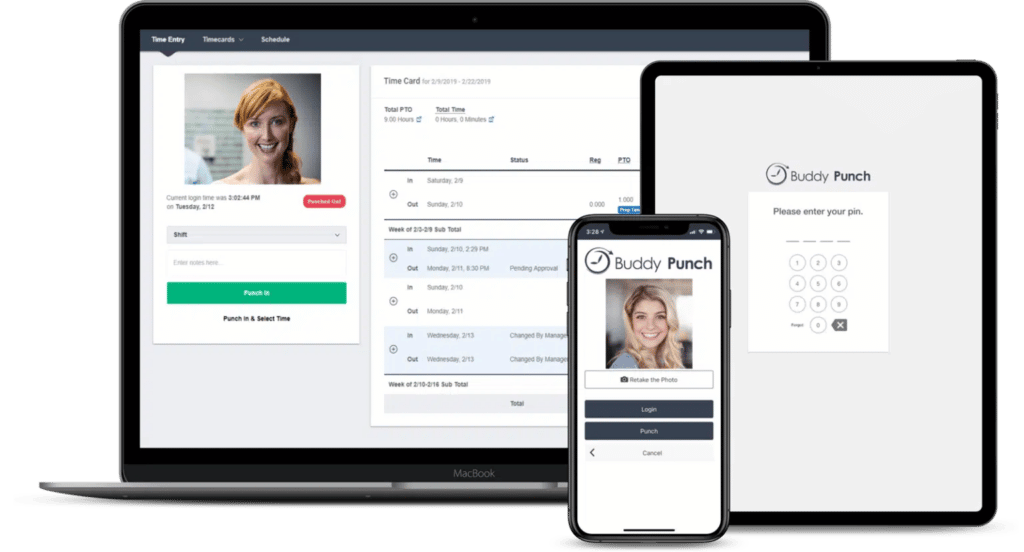 Topping our list of time clocks for bike shops we have our very own Buddy Punch. But there's a very specific reason for our ranking.
Back in 2013, we were running a fairly small operation and working on expanding to multiple locations. At the time we relied solely on manual methods of time tracking (spreadsheets) and had to take hours out of our day to run payroll on a regular basis. Once we began to focus on expanding our size and streamlining how we ran, it became clear how critical time management software was for businesses in any industry.
And so we set out to create Buddy Punch. We had three core concepts we wanted to focus on while designing this software:
Employee Accountability. Our goal was to encourage employees to make the most of their time while on the clock, without making them feel like managers were talking into a headset watching them or otherwise invading their privacy. With features such as Drag & Drop Scheduling, Job Codes, and PTO Management, Buddy Punch strikes a balance between encouraging employees to make the most of their time without forcing them to.
Design Simplicity. We wanted our time clock to be easy for anyone to use, and on any device (Desktops, smartphones, tablets, etc.) With features such as One Button Clock in, Notifications, and Punch Rounding, Buddy Punch keeps usage as simple as possible, while still having a drastic impact on your workforce management.
Payroll Streamlining. No more increasing heart rates when it comes to calculating your employees' payments. With features such as Payroll Reports on Demand, Overtime Calculations, and Payroll Integrations, bike shop owners can rest assured that data for billing, invoicing, and payments are accurate.
Next, let's dive into each of these highlighted features to make it more apparent how they'll positively impact your business.
Note: If you'd rather get a hands-on feel for how Buddy Punch runs, you can sign up for a 14-day free trial by clicking here.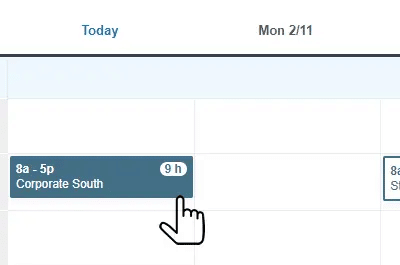 Dependability is a major aspect of growth for any retail business and bike shops are no exception. Having a set schedule and effective service is a big part of that – and Buddy Punch's scheduling features makes it easy to deliver to your customers around the clock. Simply create a cell by clicking on an empty space in Buddy Punch's interface, drag and drop it as needed, and publish your schedule when completed. All relevant employees will be automatically notified of when they're to work. Use this feature (and Buddy Punch's other data tracking options) to identify peak times for your bike shop, and schedule accordingly.

Our Job Codes feature, also known as Department Codes, is an excellent tool to get more transparency on which tasks your team members are spending the most time on (and how those tasks are paying off for your business). With this, employees can clock into a certain job via codes, and the total amount of time they spend on that task will be reflected on their timecards. Employees can easily switch between different job codes as needed.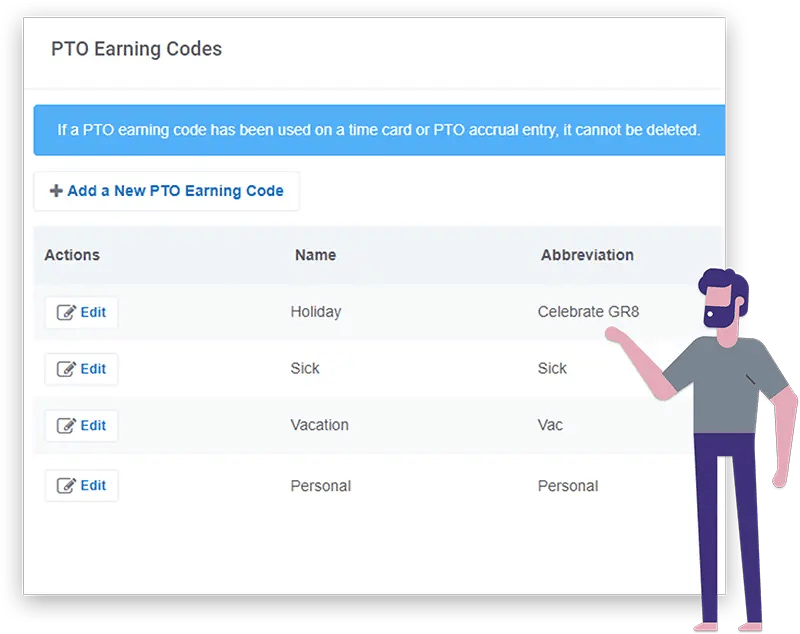 Buddy Punch's PTO features let business owners completely overhaul how they handle paid time off. Beyond the more common types of leave (holiday, sick, vacation, personal, etc.) business owners can create their own custom PTO types as needed. But it also gets better. Buddy Punch allows business owners to establish a self-service approach to PTO–which can work well in the sort of small, close-knit environments bike shops naturally foster.
With this option enabled, employees will be automatically approved for their leave requests, rather than requiring oversight and permissions from business owners. This means you can spend less time managing your team, more time looking up new tech to stock up on – like rechargeable bike lights or perhaps a Lezyne GPS device.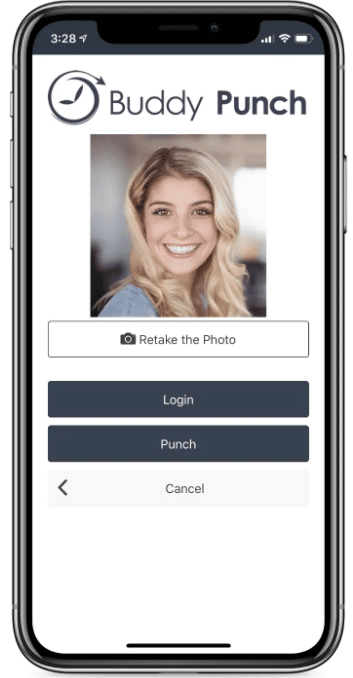 Even though Buddy Punch offers a wide variety of features, we wanted to keep its core usage (tracking when employees clock in and clock out) as simple as possible for business owners who only need the bare minimum to get the maximum value from our software. That's why we designed it so that employees can always clock in and out in one single click, regardless of the device they're using.

One thing we've tried to hone in on is how important it is for employees to be able to focus when on the clock – whether that means attending to customers, stocking the shelves, or doing their research into all things bike related. Buddy Punch's notifications feature helps feed into this goal, by letting employees completely focus on the tasks at hand. If anything needs their attention, such as punch change emails, time card approval changes, PTO changes, or an alert that they're approaching overtime – they'll be notified.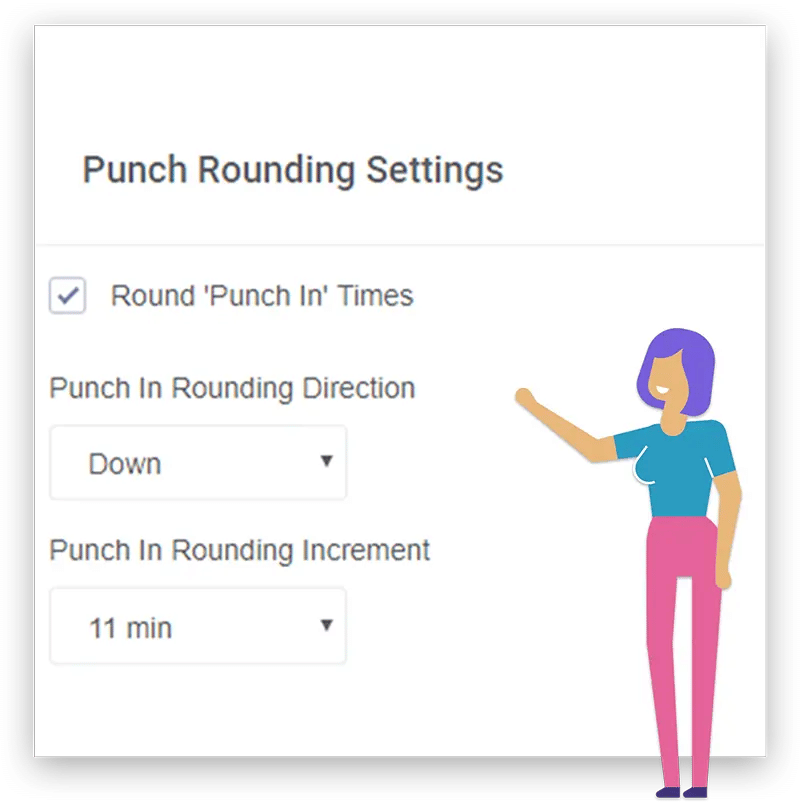 Buddy Punch's Punch Rounding feature is an excellent tool if you've got forgetful team members or happen to have Buddy Punch set up as a kiosk in your bike store. This feature will automatically round punches up, down, or to the nearest predetermined interval depending on your configuration (anything from 2 minutes to 30 minutes).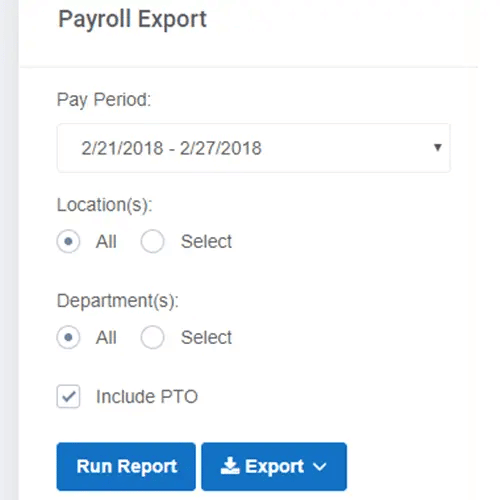 Buddy Punch offers a variety of customizable reports that can be exported into Excel CSV or Adobe PDF formats, including the Payroll Report. The Payroll Report includes a detailed view of your employees, their hours, overtime, locations, and departments, and lets you cycle through various previous pay periods to get a better understanding of any patterns/trends in the data.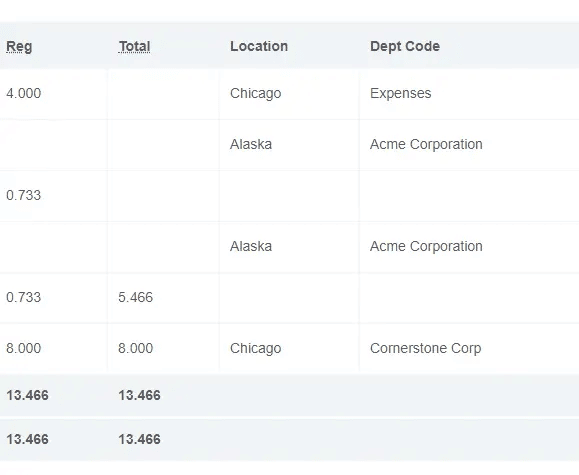 You can select from more than a dozen different overtime types with Buddy Punch, and can even assign a different overtime type to each employee. This feature will automatically calculate regular, overtime, and double overtime for you based on the OT types selected, ensuring that you're always fully aware of how much additional payment is being accumulated.

Buddy Punch also integrates directly with some of the most popular Payroll software on the market, making it easy to handle billing, invoicing, and payment. Some of those popular names include QuickBooks, ADP, Paychex, and more (click here to view the full list of Buddy Punch's integrations).
Buddy Punch Brings More to Workforce Management for Bike Shop Owners
Believe it or not, we only highlighted a select few of Buddy Punch's features. There's still plenty more we haven't touched on, such as:
Additionally, there are out-of-app benefits to consider when you partner with Buddy Punch:
There are a lot of ways you can make use of Buddy Punch in your bike shop: You can have set it up on any computers at the desk, use it on tablets, or have employees install it on their smartphones (Buddy Punch works on both Android and iOS devices as a web app or native app).
Interested? You can book a one-on-one personalized demo with our team here.
Buddy Punch's Online Reviews
We've spent a lot of time talking about Buddy Punch; it's time to let our software's users chime in. As of this post's writing, Buddy Punch has 4.8 out of 5 stars and 708 reviews on Capterra.

Below, we'll highlight a few testimonials that speak to Buddy Punch's impact in a retail setting. (Click here to browse the complete list of reviews.)
"Working with the Buddy Punch support team has been such a wonderful experience. The team is responsive, and eager to assist. Any questions we've had, whether using the free trial, or after we signed up as a customer, have been answered quickly. What a great platform."

Click here to read the full review.
"This is a great app for keeping time cards. It has been reliable and does the job!
Pros: I can access it remotely to process payroll. Employees times can be edited, added or deleted after the original entry."

Click here to read the full review.
"Amazing experience, I would love to continue using Buddy Punch while at my company. The ease of access is great for what I need to do."

Click here to read the full review.
"We started using Buddy Punch almost 3 years ago at our Pharmacy and we will continue to stick with it. The ease of use was fantastic. We have clerks that were used to signing in on a clipboard for the last couple decades, and they picked up on the program in no time. Reports are simple, the interface is great, and they are constantly updating features."

Click here to read the full review.
As these reviewers noted, Buddy Punch is easy to use for both managers and employees, reliable, and comes paired with a responsive customer support team.

Try Buddy Punch for Free
If you feel that Buddy Punch might be a great tool to use in your bike shop management, sign up for a 14-day free trial. You can also book a one-on-one demo, or view a pre-recorded demo video.
When I Work is a simple work scheduling and time tracking advice that comes with features such as:
Like Buddy Punch, When I Work is also compatible with a wide range of devices (Windows, Apple, etc.). As of this post's writing date, When I Work has 4.5 out of 5 stars and 955 reviews on Capterra.
"I have worked for different small businesses in various disciplines and When I Work was by far the most easy to use scheduling app. It was user friendly and the design was sleek. I could do a task on my phone and pick up where I left off on my Pc. Highly recommend."

Click here to read the full review.
Connecteam bills itself as a powerful solution to help you manage all of your employees in one place, which it accomplishes through a range of features including (but not limited to):
As of this post's writing, Connecteam has a rating of 4.8 out of 5, based on 193 reviews (see here).
"We have a variety of departments within our company (full service restaurant, multiple retail stores, on-site and off-site events, a convenience store, a quick service restaurant, and E-Commerce). This platform has been integral in streamlining information. With the challenges presented by COVID-19, Connecteam has never been more valuable to us. In addition to using Connecteam for sharing important information, we also use it for daily checklists and inspections, daily temperature and screening checks for our teams, etc."

Click here to read the full review.
At the time of writing, Timely has a total of 641 reviews on Capterra (see here), with an average of 4.7 out of 5 stars. It has features such as:
"My clients are always telling me how clever my system is and that they love how easy the online booking is to use. When ever I have had a problem and needed to speak to someone for support, 9/10 times I get a reply pretty much instantly and the staff are very very helpful."

Click here to read the full review.
ZoomShift is a work schedule maker designed for hourly employees that comes with key features such as:
As of this writing, ZoomShift has garnered a total of 94 reviews and 4.5 out of 5 stars on Capterra.

"Zoomshift came into my life when I was totally overwhelmed with making and maintaining a schedule for my employees. Staff was submitting request off's and preferred work days, etc. and it got really hard to manage on a simple spreadsheet. I knew there had to be a more efficient way of doing this and another small business in town connected me with Zoomshift. I haven't looked back since!"

Click here to read the full review.
Making Your Choice of Online Time Clock for Your Bike Shop
While we narrowed down the total options of time tracking software to a select few standouts, ultimately we're hesitant to try and tell you that one will be "best" for you over the others. At the end of the day, figuring out which one is most effective is going to come down to your store, your managerial style, and your individual team members.
But looking at the features offered can be a big help. For example, if you're a big fan of using checklists and forms to keep your team productive throughout the day, you might like that Connecteam has those built in. If you want team members to be able to send messages to each other (viewable by other staff) then When I Work might be up your alley.
Otherwise, if what you're looking for is a versatile time tracking tool when powerful features that you can enable or disable at will, an intuitive design that makes it easy for you and your employees to get a handle of, and a supportive customer support team to act as training wheels whenever needed, then you can't go wrong with Buddy Punch.
Try Buddy Punch for Free
If you feel that Buddy Punch could help you manage time in your bike shop, sign up for a free trial. You can also book a one-on-one demo, or view a pre-recorded demo video.

You May Also Like…