HourGuard Alternatives (5 Options)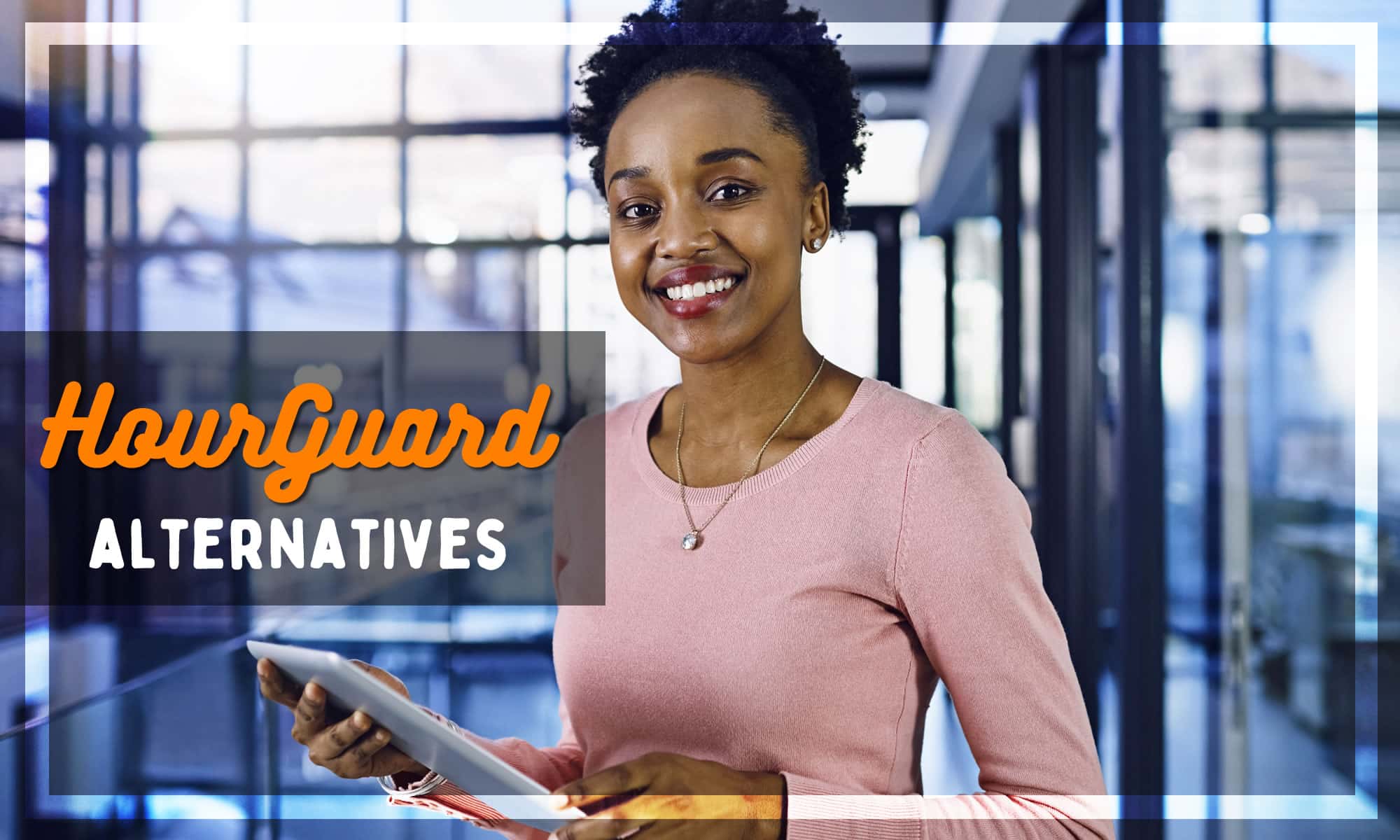 Are you looking for a HourGaurd alternative? The right time tracking solution can make task management a breeze. You can seamlessly track employee work hours and submit this data to your payroll provider. Many of these platforms also offer additional key features such as expense tracking to manage labor costs and measure profitability in real time.
When it comes to streamlining workflows and boosting team productivity, timesheet software can play a crucial role in accelerating the timekeeping process. If your senior leaders and team managers are getting bogged down with staffing-related tasks, a web-based time tracking tool can eliminate the need for spreadsheets and track time automatically.
With the right time tracking platform in your organization's corner, you can keep a close eye on employees and freelancers. Team leaders and managers will have the necessary tools and permissions in the web app to closely monitor employees and track time-off requests. Without wasting any time, let's explore the best time management solutions on the market.
Best HourGuard Alternatives
1. Buddy Punch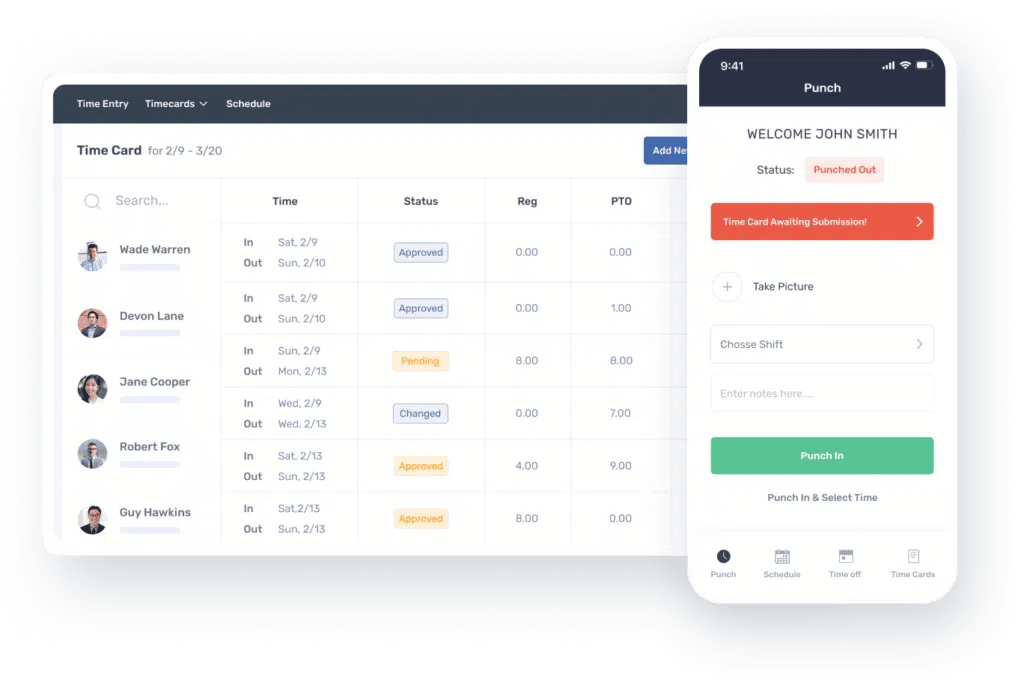 Buddy Punch is a cloud-based time tracking solution that offers a wide range of features to businesses of all sizes. With this tool, you can easily track employee hours, schedule shifts, set up payroll integrations, and generate detailed reports. The platform also offers a mobile app (for iOS and Android) that allows employees to clock in and out from iPhone and Android devices.
How Buddy Punch's Time & Attendance Solution Works
Buddy Punch's time and attendance solution is designed to make tracking employee hours easy. The platform can be used to track employee hours in real-time, meaning project managers and team leaders can always stay up-to-date with how their employees are performing. You can generate detailed reports on employee performance at the click of a button.
Assign Job Codes For Specific Tasks To Employees
Buddy Punch makes it simple to keep track of employee hours for specific tasks or projects. Job codes allow businesses to assign workers to particular projects and then monitor their progress over time. With Buddy Punch, all project information is centralized in one spot, allowing you to always have a full view of who is working on what and how they are doing.

Lightning-Fast Notifications For Managers & Leaders
Buddy Punch's real-time tracking features mean you'll never miss a beat when it comes to employee hours. The platform offers instant notifications, so you can always stay on top of employee performance. Whether an employee clocks in late or clocks out early, you will have all the necessary data on your dashboard to stay informed and take any necessary actions.
Check-In & Collect Timesheets With Ease
Timesheet collection is streamlined and automated with Buddy Punch. Once employees have clocked in and out for their shifts, the platform collates this data into easy-to-read timesheets. These can be approved by managers with just a few clicks. You can then run payroll with ease. Buddy Punch integrates with popular payroll providers, including QuickBooks.
Bring All Employee Data Under One Roof
Whether your employees are working from the office or from home, Buddy Punch makes it easy to track their hours. The platform offers GPS tracking, meaning you can always see where your employees are and whether they are on their way to or from a job site. You can also set up geofences, so you'll be aware if an employee clocks in or out from an unexpected location.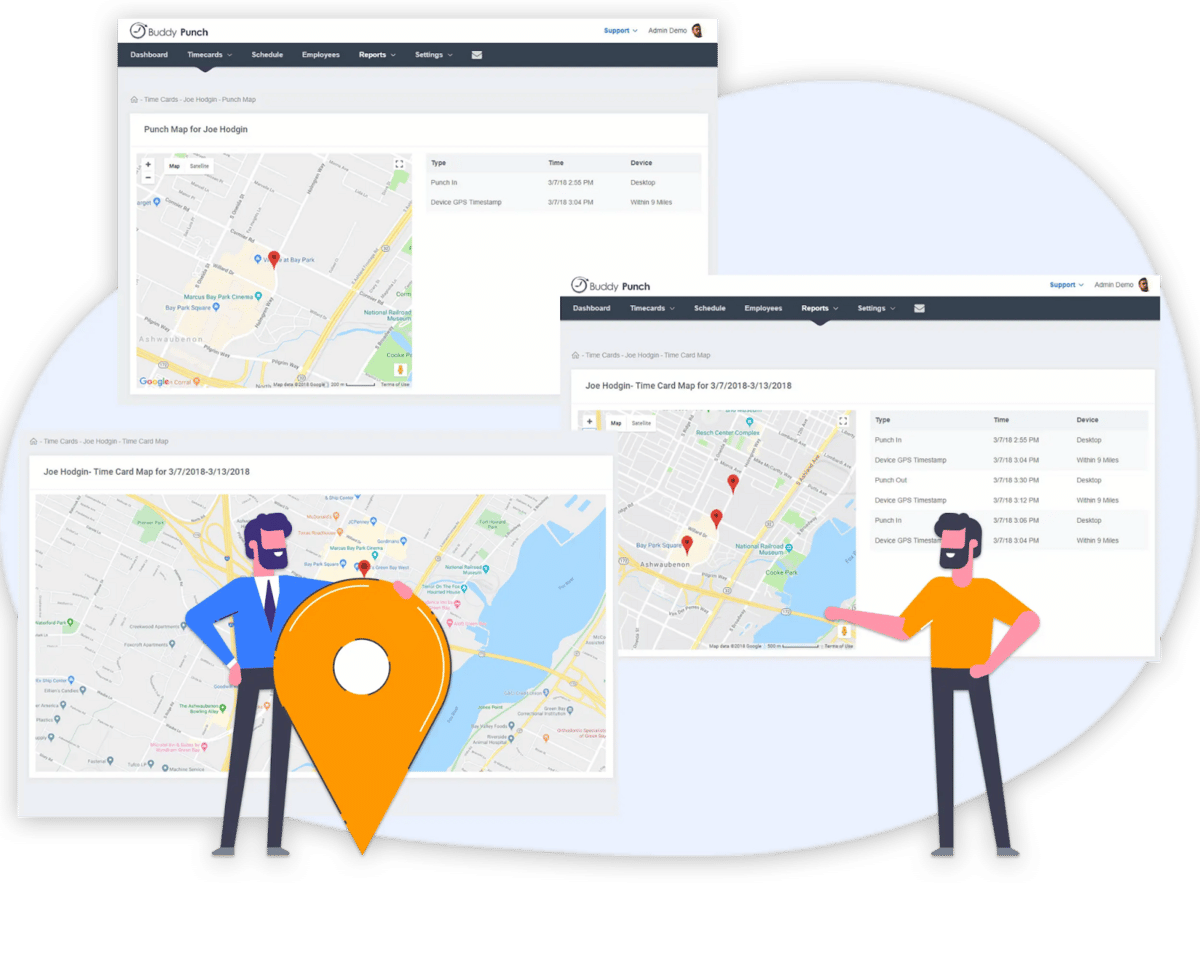 If you manage a workforce, Buddy Punch can help, no matter the size of your business. Our website has plenty of useful resources that are designed to help you make the most out of our platform. If you have any questions, please do not hesitate to reach out to our support team for assistance. Our team is ready to answer any questions you may have.
You can book a one-on-one personalized demo here.
Buddy Punch Is The Best HourGuard Alternative
Our time tracking alternative to HourGuard also comes with the following useful features:
Buddy Punch's Online Reviews
The user reviews are glowing! As of the writing date, Buddy Punch has 4.8 out of 5 stars and 724 reviews on Capterra.

Below, we'll list just a few reviews that speak to Buddy Punch's ease of use and great customer support service. (Click here to explore the full list of reviews.)
As reviewers have noted, Buddy Punch provides team leaders and project managers with the necessary tools to promote team accountability:
"Customer service is exceptional and quick. Admin is very easy and user friendly."

Click here to read the full review.
"Cannot say enough about their support. Even if the product was not as amazing as it is, I would highly recommend Buddy Punch due to the unbelievable support!"

Click here to read the full review.
"I like the ease of use and flexibility of Buddy Punch. You can add features you want and don't have to be bogged down with what you don't want to use. Some sites have way too much. I wanted simple!"

Click here to read the full review.
"I like that you can clock in and out from your mobile device. Perfect when you are not at the office but working from another location. I also like that you can identify different departments since I have to clock hours for two separate programs."

Click here to read the full review.
Try Buddy Punch for Free
If you feel that Buddy Punch might be the right fit for your business, sign up for a free trial. You can also book a one-on-one demo, or view a pre-recorded demo video.
2. Timely
Timely is an online time tracking software that offers features such as invoicing, progress monitoring, and more. With this platform, you can see how much time your employees are spending on specific tasks. Timely offers a free trial – so you can take the platform for a test drive to see whether it's the best solution for engaging your employees.
At the time of writing, Timely has a total of 208 reviews on Capterra, with an average of 4.7 out of 5 stars. Timely is loaded with a broad range of high-impact features:
"The best thing about Timely is that it lets you focus on your work first, time capture second. Traditionally within an organisation with timesheets, you need to constantly keep on top of your time entries or it will snowball into a big mess by the end of the week. Timely allows you to just get on with things and perhaps at the end of the week, you just approve the timesheet pre-filled for you."

Click here to read the full review.
3. TimeCamp
TimeCamp is a versatile time tracking software that helps you better manage your team's time and attendance. From productivity tracking to timesheet approvals, this time management software is equipped with all you need to streamline your employee data and centralize your tracking efforts. TimeCamp is a capable alternative to HourGuard.

At the time of writing, TimeCamp has a total of 562 reviews on Capterra, with an average of 4.7 out of 5 stars. TimeCamp comes packed with a range of useful features:
"It's the automatic time tracking that I like the best. Finding the crucial phrases that will correctly monitor time took some time, but now that I've got it functioning it's fantastic. Compared to rivals, Timecamp's high bandwidth is the second most popular aspect of the service."

Click here to read the full review.
4. When I Work
When I Work is a user-friendly and feature-rich platform that offers everything you need to manage your workforce, from scheduling and time tracking to communication and payroll. With When I Work, you can say "goodbye" to the headaches that come with managing a team. The platform makes collecting and preparing timesheets for payroll processing easy.
At the time of writing, When I Work has a total of 964 reviews on Capterra, with an average of 4.5 out of 5 stars. When I Work comes with a range of useful functionalities:
"When I Work has really been great. Gone are the days of me trying to create weekly and monthly calendars and juggle handwritten requests for sick and vacation time. Staff can request through When I Work and I can easily update our schedule. I've saved hours and hours a month being able to utilize the templates as well."

Click here to read the full review.
5. Insightful
Insightful provides you with all the necessary tools to track billable hours. With automatic time mapping, you can monitor employee data with ease and stay across all team developments. When you have an operation with many moving parts and employees with different levels of responsibility, a platform like Insightful can bring all your employee data under one roof.
At the time of writing, Insightful has a total of 72 reviews on Capterra, with an average of 4.7 out of 5 stars. Insightful lives up to its name by offering several useful features:
"Very good. It lacks a few features but the price they advertise is the price you pay. No hidden cost is written in size two font. Support was quick to reply. This is the service I decided to use."

Click here to read the full review.
Try Buddy Punch for Free
If you feel that Buddy Punch could be the right fit for your business, sign up for a free trial. You can also book a one-on-one demo, or view a pre-recorded demo video.
You May Also Like…