The 5 Best Desktop Time Trackers to Optimize Employee Productivity (In-Depth Guide)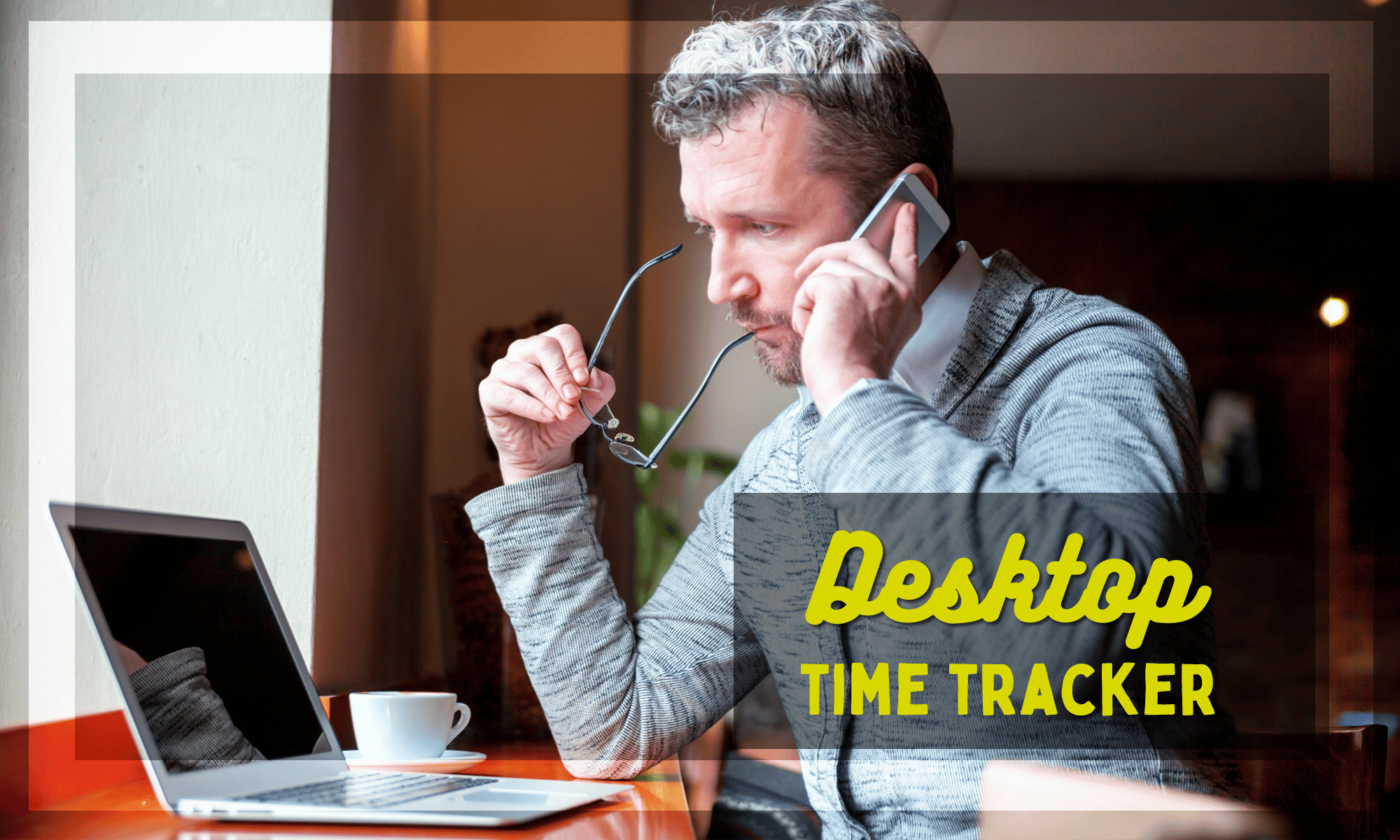 While it's nice that many modern time trackers have made accommodations to track remote workers on mobile devices (such as Android or iOS), there's nothing quite like the power of time tracking software running on Windows, Mac, or Linux desktops. This is primarily because of the wide range of features desktop apps have access to while coming at no cost to the user (versus portable time tracking which has limited features and can be a drain on phone batteries).
For example, desktop time tracking tools have access to webcams (which can enable access to tracking features that cut down on time theft), can take screenshots of user's computers, may come with idle tracking to further encourage better online time management, and can include a host of other features to enable business owners to automate time management.
In this article, we're going to list some of our favorite options of desktop time trackers to help with time management. We'll be basing this list on their offered features, pricing, ease of use, and overall public reception (reviews and customer feedback). Hopefully, you'll be able to use this guide to pick a desk time tracker for your business.
Desktop Time Tracker Options
Kicking off our list of best desktop time trackers we have our very own Buddy Punch. When we were first creating this software, we wanted it to be an all-in-one time entry solution for business owners regardless of their industry or workforce size. We used our own experience and feedback from other business owners to create a list of powerful functionalities they wanted to see in a time tracking windows app.
Some of those employee monitoring features included: Locations, OT Calculations, Notifications, PTO/Sick/Vacation Management, Customizable Reports, Automatic Breaks, and more.
But it's easy to simply list off functions we loaded into our time tracker for PC and MacOS devices. Let's dive into how they can actually improve your team management, while still being user-friendly and intuitive for even the least tech-savvy employee.
Note: If you want to try out these features for yourself, you can use Buddy Punch's free 14-day trial here.

If you're a large business with multiple locations to manage, you can use Buddy Punch's locations feature to control where employees clock in on PCs. When they go to punch in, they'll have to select which location they're currently working at. Create as many different locations as your business needs.

With the overtime calculations feature, you can choose from over a dozen preset overtime types to assign on a per employee basis. If you ever need a different type of overtime for your business, you can always reach out to us to get it added.

The notifications feature allows administrators and employees alike to communicate better. Managers receive an alert when employees request changes to their timecard, put in a leave request, or clock in or out. Employees receive an alert when a manager approves or denies their request in turn.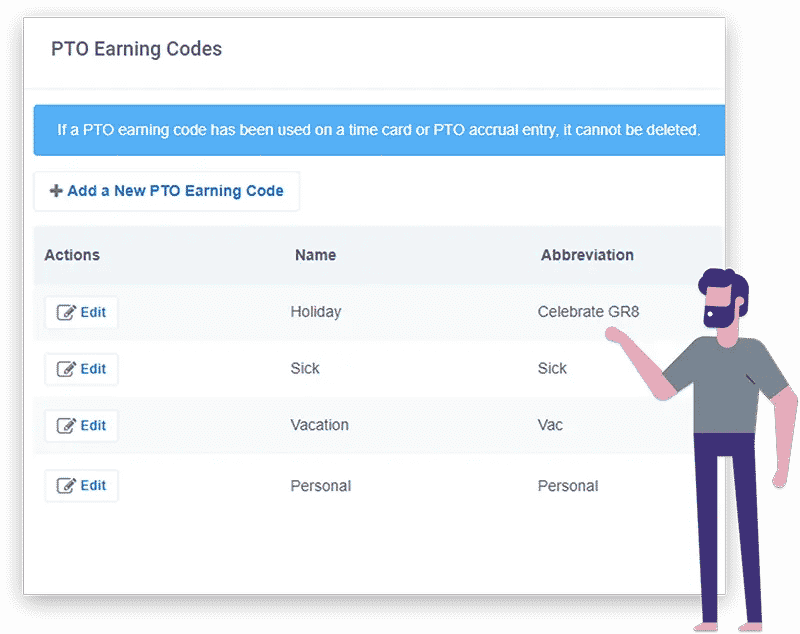 Buddy Punch's PTO management comes equipped with many preset options as well as the ability for you to create your own custom ones. Furthermore, you can nearly automate PTO management by letting your employees take a self-service approach. If you choose, their paid time off requests will be automatically approved. Otherwise, it's up to you to confirm or deny their requests at will.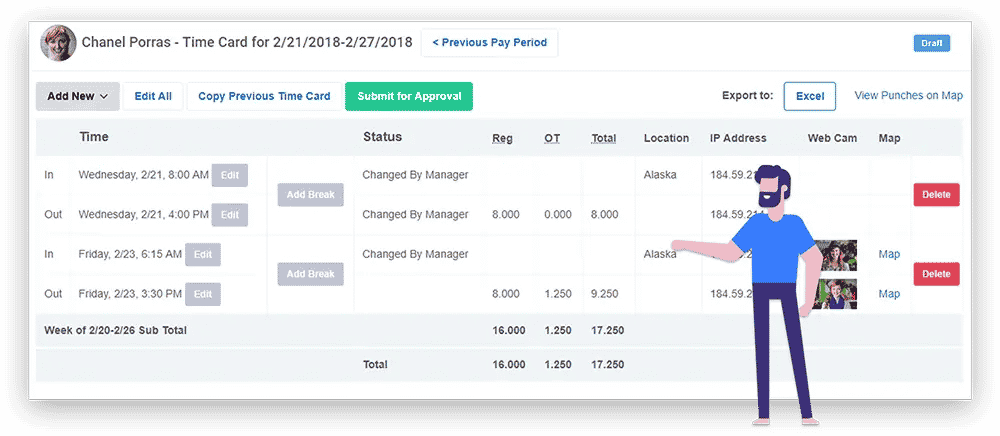 The Buddy Punch Customizable Reports feature allows you to analyze all of the time data that Buddy Punch will be collecting from your team member's desktops. Then, you can export these detailed reports as Excel or PDF files and use the information to make informed decisions to optimize your business operations.

If you're interested in automatic time tracker monitoring features, Automatic Breaks can help ensure that work time is more accurate across the board. With this, you can deduct set times from time cards automatically (such as lunch breaks). You may assign your rules to as many employees as you'd like.
Buddy Punch Offers Many Other Features
There are more ways that Buddy Punch allows you to control your team's time on desktop. Our web app comes with other features including:
And even that isn't the end of everything that Buddy Punch has to offer. Our website includes a blog section that is consistently updated with new information to improve workforce management, we have a help doc center with articles on how to utilize Buddy Punch, and our customer support is always available via live chat to answer questions.
Don't just take our word for it. You can book a one-on-one personalized demo by clicking here.
Buddy Punch's Online Reviews
As of this article's writing date, Buddy Punch has 4.8 out of 5 stars and 687 reviews on Capterra.

Below, we'll list just a few reviews that speak to Buddy Punch's performance as a timesheet app, especially on desktop. (Click here to explore the full list of reviews.)
"I like that the employees can clock in and out on their phones since we have construction sites where there isn't a mobile office. It also lets them select the job they are working for so we can have accurate billing. It is helpful for our laborers who are often on multiple projects throughout the day. As an administrator, I like that I can access it from my phone or desktop."

Click here to read the full review.
"It has a very simple interface, easy to punch in and out as well as check timecards. I think both the desktop version and the smartphone version were well-designed. It doesn't try to do too much and make things complicated, since the main purpose is just to clock in and out, and it efficiently allows the user to do exactly that."

Click here to read the full review.
"Overall its a great app!!! I was able to easily navigate the app and desktop app. The guys were able to easily use it! It was much more efficient than the handwritten time sheets we have been using."

Click here to read the full review.
"Overall: Excellent! The product works well on iPads and PCs. It seems to be very low maintenance and the staff are great to work with when I have questions.

Pros: The ease of use and implementation. I work with many non technical people and they caught on to the app quickly."

Click here to read the full review.
As these reviewers noted, Buddy Punch is a simple time tracker that anybody can use, and works great on both PCs and mobile devices.

Try Buddy Punch for Free
If you feel that Buddy Punch might be the right desktop app to monitor time for your business, sign up for a free trial. You can also book a one-on-one demo, or view a pre-recorded demo video.
Harvest is a simple time tracking software with powerful features for business owners including:
As of this post's writing, Harvest has a rating of 4.6 out of 5 possible stars on Capterra, based on 498 reviews.
"Everyone in the agency from me, the owner, to all of our team members love using Harvest. It's so easy to use, between the desktop version to the mobile app. It's been a lifesaver to make keeping track of time and budgets for our marketing agency."

Click here to read the full review.
Toggl Track is a time tracker application for Windows, Mac, and mobile devices. Its goal is for every user to be able to "track every billable hour," which it achieves through offering features such as:
Toggl is a fairly well-liked program, with a free plan for up to 5 users that lets you track unlimited projects and clients. It's also worth noting that Toggl also offers Toggl Plan as a business management program for freelancers.
At the time of this post's writing, Toggl Track has a rating of 4.7 out of 5 stars, based on 1836 reviews (see on Capterra).
"Being a small company we needed something we could track easily without any complicated setup. And Toggl provided. We have used it for 7+ years and it is still going very well. The best things are time is displayed in decimals so it can be easily multiplied with rates. Clients love the summaries, colleagues love the simplicity."

Click here to read the full review.
TimeCamp is a fairly popular free time clock, seeing as its free plan allows you to use unlimited users, unlimited projects, and comes with desktop & mobile app functionalities (though other features are limited). Some of its paid plan features include:
As of this post's writing, TimeCamp has 555 reviews and a rating of 4.7/5 on Capterra.
"There are a lot of time tracking options out there but TimeCamp provides low friction ways to get the job done. It syncs with a bunch of other project platforms (I use Podio) which prevents the need for entering my projects in two systems. It allows tracking both in TimeCamp and also allows import of the data back to Podio which gives me limitless options for tallying by different project elements."

Click here to read the full review.
Clockify is a time tracker app with desktop and mobile capabilities that can help you track attendance, profits, expenses, and more. As of this post's writing, Clockify has 4175 reviews and 4.7 out of 5 stars on Capterra.
Some of Clockify's features include:
"Price for the value is great. We like the simplified time-tracking experience and the ability to create customized shared web reports. You can really customize your Clockify experience to fit your business needs."

(Click here to read the full review)
.
Finding The Best Time Tracking App for Desktops (Mac, Windows and Linux)
As we've detailed in this post, there are quite a few options of time tracking apps that can completely eliminate the need to use manual time tracking methods, and many of these programs work for desktop as well as on mobile. But no two businesses are the same, and finding the "best" one is going to depend on what you're looking for.
If you hire a large number of freelancers, you might find that Toggl is a business you want to partner with. If you're on a tight budget and can make do with limited features, you might find that TimeCamp's restrictive free plan is more than enough freedom for you.
But, if what you're after is powerful features that can be enabled or disabled depending on what your workforce responds best to, an intuitive design that's simple for any team member to use, and features that work great for tracking on and off site – then you can't go wrong with Buddy Punch.
Try Buddy Punch for Free
If you feel that Buddy Punch could be the right desktop time monitor for your business, sign up for a free trial. You can also book a one-on-one demo, or view a pre-recorded demo video.

You May Also Like…