ClickTime Alternatives (5 Options)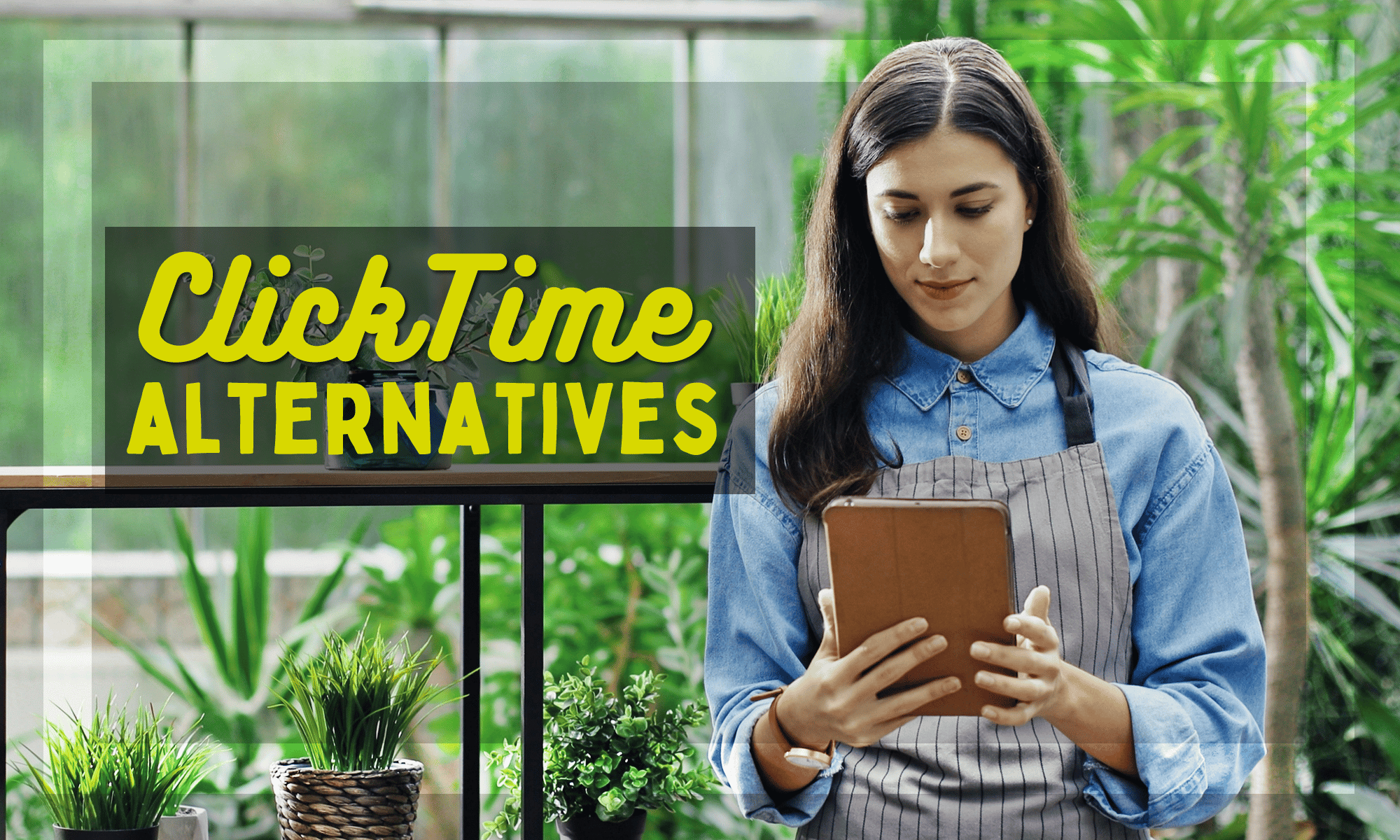 Are you looking for the best ClickTime alternatives? Whether you've been turned off by your own experience with the software, or maybe you were considering it before looking at ClickTime reviews (or perhaps ClickTime pricing plans are what caught you off-guard.) Either way, we've got you covered. In this guide, we will explore some verified possible alternatives to San Francisco based ClickTime as an employee hour tracker for your organization. If you are interested in looking at different approaches to time tracking, you can begin by considering our five options.
When it comes to tracking employee time and calculating billable hours, we recommend finding a a robust, customizable time tracker solution to use at your disposal. Something that goes even beyond what Clicktime features – or at least has more flexibility in its modules so you can use it however you wish. For example, maybe instead of an in-app stopwatch you find a labor costing feature that helps account for employee productivity on a task just as well.
We ourselves went through the trouble of looking through online time management solutions back when we were still using manual methods to manage 20 employees at 3 different locations. We tried a lot of tools, including the one at good old ClickTime.com – all designed to increase employee oversight and radically centralize team performance data.
Without any further hesitation, let's take a look at a few ClickTime alternatives.
Best ClickTime Alternatives
1. Buddy Punch
Kicking off our list of alternatives, we have our very own Buddy Punch. As we mentioned above, we initially wanted to swap off the hassle of our manual methods of managing employees by finding a digital tool to help us manage project costs, generate custom reports, and track employee time. When we didn't find a tool that seemed like a good fit, we decided to build our own.
Today, we're proud of what we've built. Buddy Punch has become a must-have platform for team leaders and project managers that are serious about tracking employee time and streamlining payroll processing. This employee time tracking platform makes it easy for team members to clock in and out with the click of a button – while offering real-time employee performance data to leaders so they can manage decisions for greater resource management and profitability.
How Buddy Punch's Time Tracking Solution Works
On the software review site Software Advice, one review of ClickTime mentions a poor user experience (design and layout). This is the exact sort of scenario we designed Buddy Punch's user interface to avoid.
As an all-encompassing, user-friendly time tracking tool, Buddy Punch is well-equipped to support attendance tracking and provide managers and human resource teams with real-time performance data. From work hours spent on specific tasks to overall employee productivity, we wanted to ensure that business owners would be able to use powerful reporting options to optimize their businesses.
You can quickly view this gathered data from in our management software's dashboard to see exactly who has clocked in. No matter where your employees choose to punch in, you can gain a clear and up-to-date picture of team progress.
Leverage QR Codes And Facial Recognition Technology
Buddy Punch is feature-rich, user friendly tool to track employee attendance, including options such as QR codes and facial recognition. With access to a wide variety of useful tools, Buddy Punch makes it easy for you to explore different methods of ensuring employees clock in and out. Once you test our various time and attendance tools, you can decide on what works best for your organization.
Customize Punch Rounding Around Your HR Policies
You can utilize the punch rounding feature to ensure team member punches are rounded up or down based on the standardized minute increment you choose for your workforce management. This means Buddy Punch can align with the existing HR policies in your organization. Buddy Punch comes with everything your HR managers need to stay compliant and enforce existing policies. Additionally, account managers can alter permissions and grant employees control over their billable time depending on much flexibility you like in your workplace.
Manage Employee PTO Requests
You can handle time off requests inside Buddy Punch. That's right, the platform gives leaders and managers the ability to either allow team members to manually add PTO to their employee time cards (without the need for approval) or give employees the ability to request PTO. These leaders and managers can then decide to either approve or reject PTO requests and update the time cards.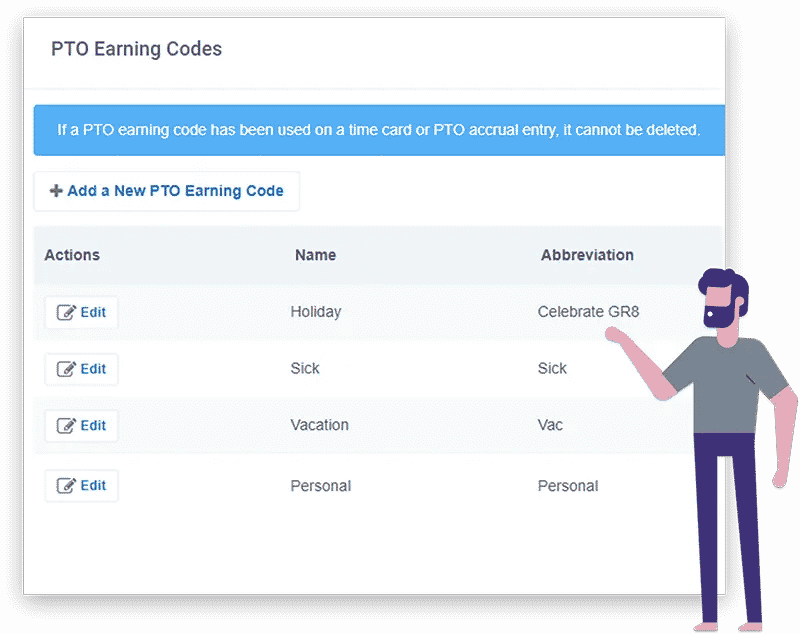 After you have taken some time to explore Buddy Punch, you should consider having a quick look through the extensive range of resources on our "Knowledge Base" – which contains plenty of useful information. Even though it's remarkably easy to hit the ground running with Buddy Pinch, our customer support team is always ready to answer any questions you may have.
You can book a one-on-one personalized demo here.
Buddy Punch Is Packed With Useful Features
We're just getting started! This brief summary of Buddy Punch barely covers the immense range of practical features offered by our intuitive platform. It doesn't matter what your company size is, if you want to monitor team performance and process payroll with ease, you'll want Buddy Punch in your corner.
Our platform also comes with the following features:
Buddy Punch's Online Reviews
Don't just take our word for it. As of this post's writing, Buddy Punch has an overall rating of 4.8 out of 5 stars on popular software review site Capterra. This is based on 836 total user reviews.

Below, we'll list just a few reviews that speak to Buddy Punch's ease of use and great customer support service. (Click here to explore the full list of reviews.)
"The interaction with the different sections is seamless once a person learns all the processes that relate to time in and time off. Having the availability of the calendar option makes keeping up with personal time very simple. The features that allow changes to time and scheduling are made simple and are quick and easy to perform."

Click here to read the full review.
"My experience has been very positive! I initially started using this because I was questioning some times regarding a few jobs and once I implemented it, the time issues seemed to disappear."

Click here to read the full review.
"The product is easy to use and to deploy to employees. The cost is reasonable and it can do more than what we use it for. The employees can edit their time if there is an error, and the Approver can edit and/or approve an employee's time entry."

Click here to read the full review.
"Very easy for employees and administrators alike to track time and edit if necessary. Provides accountability for our employees with the location settings such as [GPS location tracking]/Geofence.. Provides a variety of reports that are helpful. Provides our employees with mobility – we can send them to any job site, and they have the ability to punch in/out."

Click here to read the full review.
Try Buddy Punch for Free
Buddy Punch works on any device with an internet connection, meaning you can use it as both a desktop app and a mobile app (on Android or iOS mobile devices). If you feel that Buddy Punch might be the right time and project management tool to replace ClickTime for your business, sign up for a free trial, no credit card required. You can also book a one-on-one demo, or view a pre-recorded demo video.
2. DeskTime
DeskTime is an effective tracking system and workflow management tool. If you want to bring a clear sense of order to your HR department's payroll processes for human resource management, DeskTime's platform comes with the functionality to make this possible. From collecting timesheet data to monitoring performance, DeskTime can automate a full range of administrative processes.
At the time of writing, DeskTime has a total of 240 reviews on Capterra, with an average of 4.5 out of 5 stars. DeskTime offers various features, some of which include:
"Love the fact that it captures everything I do on the computer. Even if I forget to track work on a certain project, I can always retrace my steps and assign the minutes/hours manually. The productive/unproductive categorization is very beneficial to have a bird's-eye view of my activity. I've used it in parallel with Toggl for a long time and Desktime was superior on so many levels."

Click here to read the full review.
3. TimeCamp
TimeCamp is a cloud-based time tracker that is ideal for monitoring employee performance in teams of all sizes. Whether you are a small business or a large enterprise, you can use TimeCamp to enable employees to clock in and out with ease. TimeCamp comes with a range of features that allow project managers and team leaders to track the amount of time employees and freelancers are spending inside certain apps, helps with job and resource planning, and even serves as a communication tool.
At the time of writing, TimeCamp has a total of 555 reviews on Capterra, with an average of 4.7 out of 5 stars. TimeCamp offers various employee management features to monitor workdays, some of which include:
"Integrating TimeCamp with my business took a few minutes in the beginning. I had to update keywords over a few days to make it a perfect custom fit. Every time I have a new client, I add new keywords – the whole process takes less than a minute."

Click here to read the full review.
4. When I Work
If you want to keep employee monitoring and task management under one roof and carefully monitor team performance, When I Work is a premier SaaS tool that can confidently support the managerial efforts of leaders. At the same time, this employee scheduling application gives administrators, such as HR managers, the tools needed to streamline payroll processing, handle expense management and allocation, and ensure all employees are cooperating for optimized timesheet management.
At the time of writing, When I Work has a total of 940 reviews on Capterra, with an average of 4.5 out of 5 stars. When I Work offers various key features to get project insights, some of which include:
"I've been using this software for 5 years, first as an employee then as an employer. Ease of use for both parties is fantastic and it's well worth paying for to save the time. When I change places of business, if I have a choice, I will choose When I Work again and again."

Click here to read the full review.
5. OnTheClock
When it comes to team management and knowing your team's performance regardless of where individuals are located, OnTheClock is workforce management solution that's well-equipped to support remote teams. With detailed reports (ones that can compete with ClickTime's pre-built reports), you can begin to simplify timekeeping, data collection, and payroll processing, and use its API integrated with your favorite supplemental tools. This user-friendly tracking app has everything you need to keep track of remote teams and ensure they are on the same page, and stores valuable metrics in an employee database.
OnTheClock offers various features, some of which include:
It is effective employee time tracking software solution for PC (Windows) and Mac, and it also works with mobile and tablet devices. As of the writing date, OnTheClock has 4.7 out of 5 stars and 513 reviews on Capterra.
"As an employer I wanted an easy to use time clock. This is and has been such an easy set up and managed program I could not recommend it more highly. The ability to assign managers for other employees has made my payroll day so much easier, which is a big time saver, making payroll a breeze."

Click here to read the full review.
Runner up apps include Harvest, Wrike, Todoist, Clockshark, and Clockify.
Try Buddy Punch for Free
If you feel that Buddy Punch could be the right fit for your business, sign up for a free 14 day trial. You can also book a one-on-one demo, or view a pre-recorded demo video.
You May Also Like…