Best Apps For Payroll (3 Options)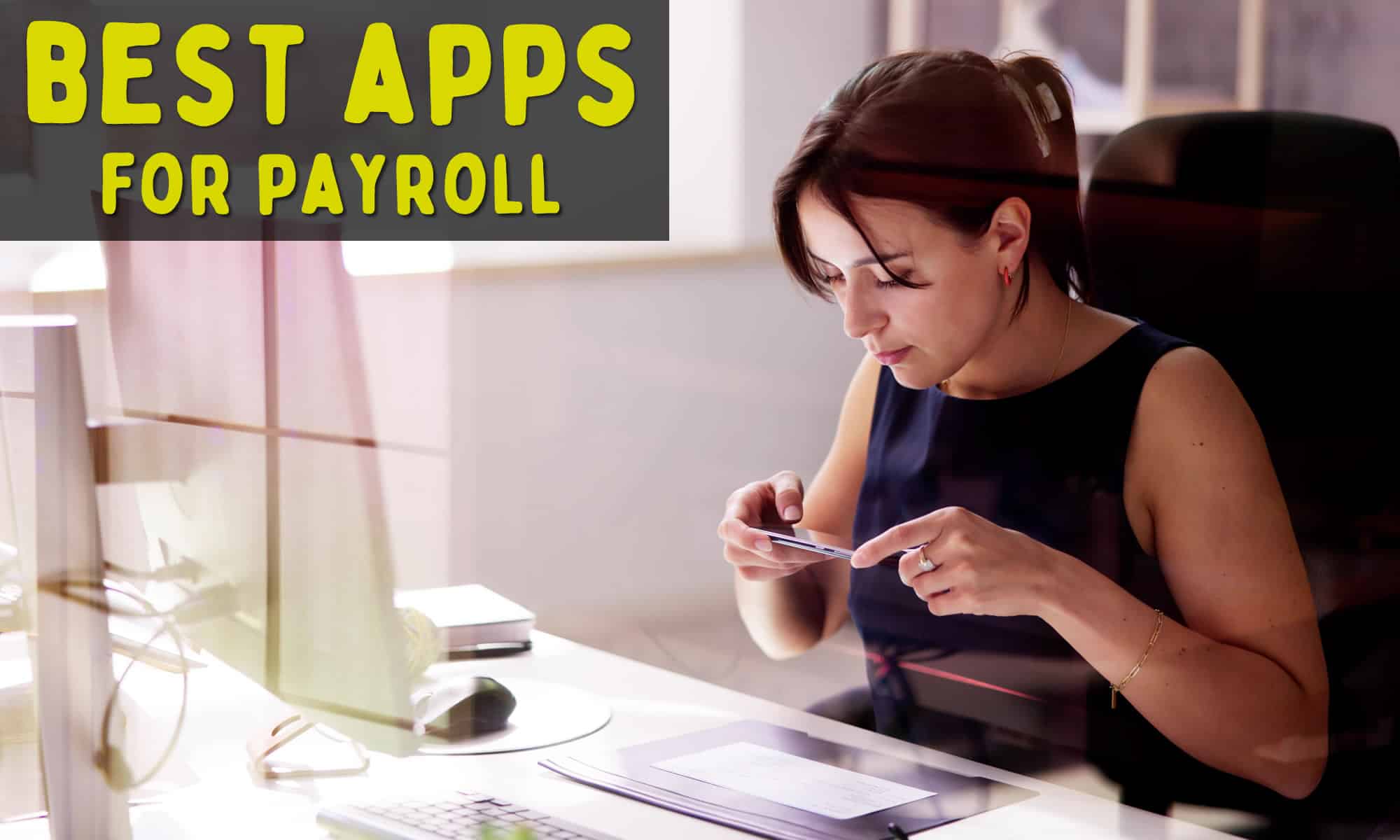 Finding the best apps for payroll for your business can often feel like a daunting task, especially when your goal is to streamline your business's financial processes effectively.
The search for a seamless payroll experience typically stems from the following concerns:
Are you tired of the complexities and time consumption associated with manual payroll processing?
Are you seeking to eliminate errors that often result in financial loss or compliance issues?
Is the constant need to stay updated with payroll tax regulations becoming burdensome?
We understand that these pain points are significant for those managing payrolls, including small to medium-sized business owners, HR professionals, and accountants.
Whether you are a business owner seeking time-saving automation for your growing business, an HR professional needing integration with existing platforms and requiring new hire onboarding and HR features, or an accountant looking for robust tax compliance and employee benefits tools, our guide provides tailored solutions for each role with add-ons for extra functionality.
If you have typical small business payroll needs, you'll find our recommendations for online payroll providers invaluable.
These providers offer free payroll options for the initial pay period, encompassing human resources and payroll needs with added services like an employee portal accessible via mobile device.
With years of expertise in payroll technology for small business payroll and a deep understanding of the market needs of growing businesses, our recommendations are insightful, research-backed, and user-verified.
Each proposed solution is designed to alleviate payroll stresses and empower you to focus on successfully managing and growing your business, with features ranging from Xero integration to mobile payroll capabilities.
These add-ons and typical HR software tools provide comprehensive employee benefits, enabling seamless new hire processes and enhanced user experience through HR features like a user-friendly employee portal.
Our guide aims to cater to your specific online payroll needs, providing solutions that are compatible with various mobile devices and customizable to the pay period structure of your choice.
Best Apps For Payroll
1. Buddy Punch
Buddy Punch offers an intuitive full-service payroll and time tracking software designed to simplify your work hours and billable time recording process.
This efficient tool is not just another time clock app but a comprehensive solution, tailored to meet the diverse needs of small business owners.
With a desktop app that's compatible with both Mac and Windows, it enables freelancers and teams alike to clock in and out effortlessly.
Within this platform, users find a treasure of features ensuring transparency and efficiency in workflow:
Real-time data on employees' locations through GPS and geofencing.
A holistic hours tracker, providing a glance at both employee hours and billable time.
Facial recognition and automatic payroll features to authenticate timesheets.
Screenshots and manual time options for freelancers needing proof of work.
PTO management tools to prevent time theft and streamline leave tracking.
Exportable detailed payroll reports in CSV or Excel for flexible data analysis.
Buddy Punch Makes Self-Setup Simple
For businesses mindful of budgeting, Buddy Punch offers competitive pricing with a free plan for starters.
This plan allows access to core features, while more advanced plans introduce additional tools for enhanced project management.
The platform accommodates unlimited users, supporting both individual freelancers and larger teams with its mobile feature for iOS and Android devices.
Its customizable templates, QuickBooks Online, and QuickBooks Payroll integrations make it adaptable for various business needs, facilitating a seamless self-setup.
Buddy Punch Is Ready To Meet Your Payroll Needs
Dive into the resources on our website to explore how Buddy Punch compares with competitors like Hubstaff, Clockify, SurePayroll, and OnPay, and discover its unparalleled payroll features.
Offering in-built HR tools, the software automates requests, granting your team autonomy and control over their hours, time-off requests, and detailed reports.
Whether analyzing labor costs for profitability or monitoring hourly rates, these tools minimize reliance on HR, fostering an efficient system.
Designed to be your all-in-one payroll solution, Buddy Punch offers not just time tracking but also GPS for real-time team updates.
With the mobile app, your team can clock in and out conveniently, anytime, anywhere.
Learn how Buddy Punch can revolutionize your timekeeping and employee productivity, and consider booking a personalized demo today.
You can book a one-on-one personalized demo here.
Buddy Punch Is The Best Payroll Software Solution For Employee Self-Service
Here are some links to useful information on some of Buddy Punch's most popular features:
Buddy Punch's Online Reviews
The user reviews are glowing! As of the writing date, Buddy Punch has 4.8 out of 5 stars and 884 reviews on Capterra.
Below, we'll list just a few reviews that speak to Buddy Punch's ease of use and great customer support service. (Click here to explore the full list of reviews.)
"Customer service is exceptional and quick. Admin is very easy and user friendly."
Click here to read the full review.
"It is user-friendly. I am new to the company and new to using Buddy Punch and it was easy to use as a beginner. I have never encountered any problems with it as well."
Click here to read the full review.
"Cannot say enough about their support. Even if the product was not as amazing as it is, I would highly recommend Buddy Punch due to the unbelievable support!"
Click here to read the full review.
"Buddy punch was super easy to set up, once the employees are added to the system. Week to week operations are a breeze."
Click here to read the full review.
Try Buddy Punch for Free
If you feel that Buddy Punch might be the right fit for your business, sign up for a free trial. You can also book a one-on-one demo, or view a pre-recorded demo video.
2. When I Work
When I Work is a cloud-based management software meticulously crafted for small to medium-sized businesses.
This competitively priced platform facilitates a smooth onboarding process, making payroll management seamless and straightforward.
It allows employees to log their time swiftly and submit entries, which are then ready for immediate payroll processing.
HR managers, in particular, appreciate the platform's efficient payroll services, highlighting its effectiveness in simplifying the otherwise complex task of payroll management.
At the time of writing, When I Work has a total of 1,046 reviews on Capterra, with an average of 4.5 out of 5 stars. When I Work comes with a range of useful functionalities:
"Overall, When I Work is a great time tracking solution. It works well, and the report outputs are easy to work with when running payroll. The only thing that could improve is that the sync feature would work with Quickbooks simple start and essentials. Currently the sync function only works with QuickBooks Plus and above, and not all my clients have a plus level subscription, adding manual entry for payroll."
Click here to read the full review.
3. TimeCamp
TimeCamp stands as a comprehensive time tracking and payroll platform.
It is equipped with features that range from invoicing to progress monitoring.
The platform not only offers insights into the time employees dedicate to specific tasks but also provides essential tools for workforce management.
Whether it's approving timesheets or monitoring attendance, TimeCamp encompasses everything needed for effective control and oversight.
At the time of writing, TimeCamp has a total of 589 reviews on Capterra, with an average of 4.7 out of 5 stars. TimeCamp comes packed with a range of useful features:
"As an office manager, it's very easy to teach our employees how to use TimeCamp and it's also very easy to export the timesheets into an Excel file. Overall a very easy and flexible tool to work with."
Click here to read the full review.
Try Buddy Punch for Free
If you feel that Buddy Punch could be the right fit for your business, sign up for a free trial. You can also book a one-on-one demo, or view a pre-recorded demo video.
You May Also Like…