8 Effective Efficiency Tools to Increase Revenue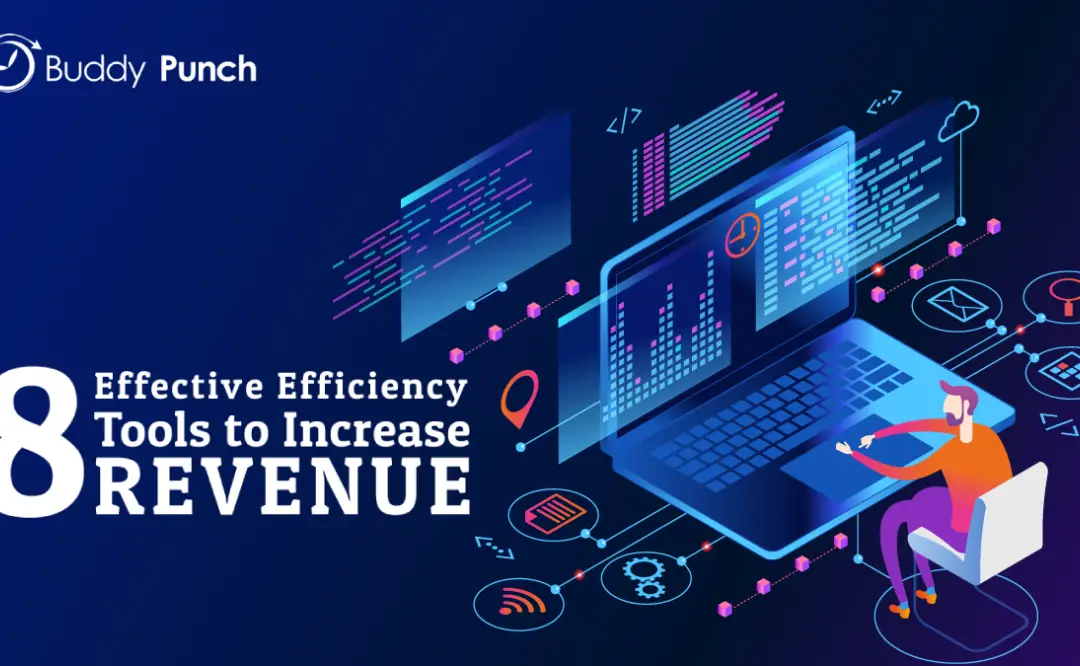 Finding the right efficiency tools to help automate processes within your business is not always a simple task. It requires diligent research, extensive product trialing and several demos before taking the plunge and committing to any contracts. So without further ado, here are eight software products that will help keep your business on track and ahead of the competition.
For Communication/Collaboration:
Slack: One of the mightiest collaboration tools around, this powerhouse of a platform makes communication among team members not only easier, but better. It allows you to send direct messages as well as files to a single person or a group of employees. Slack is a great tool to help you keep in touch with your team throughout the day. While it is a simple app, it will make a significant impact on the productivity of your business.
Asana: Asana has been designed with companies in mind. They strive to provide software that allows companies to easily track the work of their employees to ensure they are getting the best results possible. Easily create to-do lists for your employees, set reminders for upcoming project deadlines, and reach out directly to employees – all within the app. Just set the to-do tasks and let Asana handle the rest.
For Sales:
Pipedrive: Pipedrive is a cloud-based Sales CRM (customer relation management) and pipeline management solution that allows businesses to efficiently plan their sales activities Pipedrive streamlines all processes involved in converting a customer into a successful sale. Since the software is cloud-based, it can be accessed from any device at any time – whether on a mobile device or through a web browser. This tool will save you time and lower your stress levels.
HubSpot CRM: HubSpot CRM is a free and simple platform that allows your sales team to get started quickly without making too many adjustments to their current workflow. It is a smart and cost-effective option that still carries all the necessary features to convert customers to sales. HubSpot CRM helps you to effectively track and assign your details, controls the performance of your sales staff, and has a dashboard where team members can keep track of company activities. It's a very balanced sales solution great for any size company.
For Marketing:
MailChimp: MailChimp offers a long list of tools that make setting up an email marketing campaign a breeze. Their plans come with automation marketing tools, A/B split testing tools, segmentation, and groups as well as basic reporting. It's an easy platform to use and takes very little time to get a campaign up and running. With the email automation tools MailChimp offers, you can easily create email workflows based on different conditions such as a new customer or an abandoned shopping cart – ensuring the right email is sent to the right person at the right time. The less time you have to spend worrying about email marketing equals more money for your business.
AgoraPulse: AgoraPulse is a great Social Media Management and CRM platform that allows businesses to manage their social media messages, monitor social channels, and schedule and publish content. Accompanied by stunning reports to help you keep track of your success. Since AgoraPulse does all the heavy lifting, you can sit back and reap the rewards and focus on more critical aspects of your business.
For Customer Service:
Intercom: Intercom is an amazing messaging platform with a focus on live engagement with customers who visit your site or use your apps via chat, email or text. Intercom supports triggered emails for marketing purposes, customer analysis, and segmentation, along with integrations with several other platforms such as MailChimp. It's a great platform if you are looking to engage with your customers real time, in turn increasing customer satisfaction and revenue.
Zendesk: Zendesk is a cloud-based help desk solution that offers several customizable tools to build a customer service portal, online communities, and more importantly a knowledge base. The main features include a customizable portal, live chat features, and integration with applications such as Salesforce. With Zendesk, you can turn interactions into lasting relationships which will become profit for your business.
While there are many solutions available, your business will benefit from any combination of these tools. You will find your employees will be happier because you are saving them time and making their workflow more efficient. Even more importantly, your customers will be satisfied because you can make interactions with them more effectively than more. With both your employees and customers happy, you will be happy to see increased revenue.